UPDATE: The link to bid on Oleksander Smykovskyi's violin has now been launched, with bidding opening at 11:00AM (ET) on 24 May 2022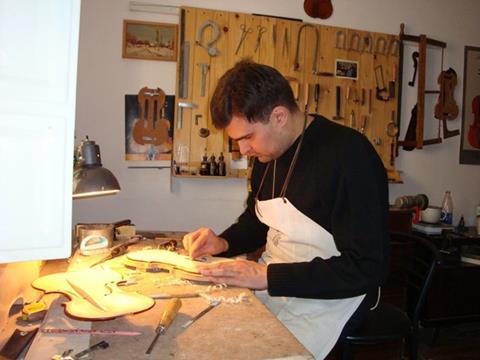 UPDATE 23 MAY 2022: The lot containing Oleksander Smykovsky's violin can be found here.
The violin is labelled 'Alessandro Smykovsky di Mariupoli fece nell'anno 2010'
Smykovsky describes the violin as having 'a bright yet colourful sound, handles sound pressure well and has wide timbral characteristics. I hope this instrument will attract the interest of serious musicians, that the auction will be a success, and my violin will continue providing people its beautiful sounds while making our world better!'
Bidding closes at 12:48PM on 9 June 2022.
Mariupol luthier Oleksandr Smykovskyi, whose workshop and home have been destroyed by Russian forces, is hoping to benefit from an upcoming auction of one of his violins.
Through the efforts of US-based violinist Gary Sinderovsky and Tarisio, a violin made by Smykovskyi will appear in Tarisio's online catalogue in May. Smykovskyi updated The Strad, 'Gary Sinderovksy had one of my violins in Philadelphia. He decided to put the violin up for auction with Tarisio at their upcoming New York June Fine Instruments & Bows Auction.'
The proceeds of the auction will be transferred to Smykovskyi, who continued, 'Tarisio recently informed Gary that they are happy to help and not only accepted the violin for the action, but generously will waive seller and buyer fees for my benefit.'
After fleeing Mariupol, Smykovskyi is temporarily located in Vinnitsa. With numerous unstable factors, including lack of internet, he has been working tirelessly to connect with and save his parents, who remained in Mariupol. They have now relocated to Ukrainian-controlled Zaporizhzhia via Nikolskoe and Berdyansk, and plan to join Smykovskyi in Vinnitsa.
A GoFundMe crowdfunding page created on 7 April has gathered over US$3000 for the luthier. Smykovskyi has received part of the funds, saying 'it helped a lot, since moving through the occupied territories is not only dangerous, but also very expensive.'
He updated The Strad: 'Many luthiers offered me a place to work as well. Unfortunately, my age is between 18 and 60 years old, and under Ukrainian law, I am not allowed to leave the country until the war is over. I am on the military list and can be called up into army at any time. It feels to me that this war will be a long one. So, for now, I can only plan and react in terms of survival and adaptation to constantly changing conditions.'