Austrian-Swiss violinist Amia Janicki won 1st prize of €5000 in the final, held yesterday in Zagreb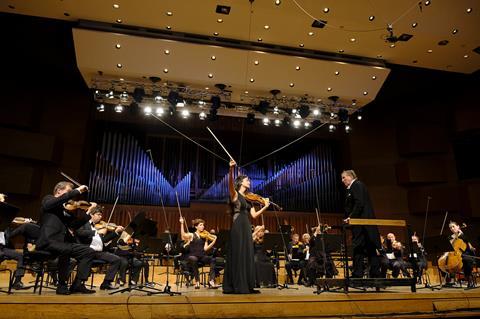 The 12th International Vaclav Huml Violin Competition was held 1-7 October in Zagreb, with the prize-winners announced as follows:
1st Prize Zlatko Baloković Award €5000: Amia Janicki (Austria / Switzerland). Janicki also won a Croatian Composers' Society Prize and the HRT Symphony Orchestra Award
2nd Prize €3500: Eimi Wakui (Japan)
Joint 4th Prize €1500: Kaewon Ma (South Korea) and -On-You Kim (South Korea)
5th Prize €1000: Ivan Graziani (Croatia)
6th Prize €500: Cornelia Machuletz (Germany)
Croatian violinist Leon Korman won the online voted audience award, for best performance of the obligatory composition by Bruno Vlahek Perpetuum II, winning an Accord violin case.
The youngest ever contestant in the competition's history, 14-year-old violinist Tao-Yuan Hsiao (Taiwan) was awarded a violin made by Croatian luthier Slavko Domitrović. Hsiao also won a prize from the Croatian Composers' Society.
Born in 1997, 1st prize winner Janicki began playing the violin at the age of three with Patricia Giannetti. She studied with Tedi Papavrami in Geneva and is currently pursuing her studies in Vienna at the Musik und Kunst Privatuniversität der Stadt Wien in the class of Pavel Vernikov. Currently, she is artist-in-residence as a soloist in Augustin Dumay's violin class at the Queen Elisabeth Music Chapel in Belgium.
Now in its 12th iteration, the competition was first held in 1977, named after Croatian-Czech violinist Vaclav Huml, who lived from 1880-1953. He studied in Prague with renowned violinist Otokar Ševčik, living and working in Zagreb as a teacher of violin and chamber music at the Croatian Music Institute and Academy of Music.
Read: Finalists chosen for Joseph Joachim Violin Competition
Read: New Zealand cellist Matthias Balzat wins ROSL strings prize
Read: Ludwig Quandt: Life Lessons