International participants from Spain, USA, Japan and Germany will compete in the final concerto round on Sunday 10 October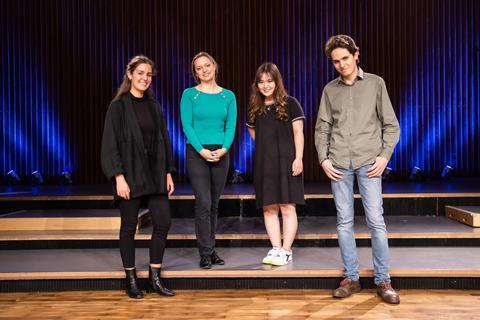 The four finalists have been selected for the 11th Joseph Joachim Violin Competition in Hannover, following the semi-final rounds earlier this week. They are:
Javier Comesaña (22, Spain)
Maria Ioudenitch (25, USA)
Minami Yoshida (23, Japan)
Chiara Sannicandro (23, Germany)
The finalists will perform at the competition's grand finale concert on Sunday 10 October, where contestants must play a concerto either by Brahms or Schumann, as well as a piece commissioned for the competition, Im Garten zu spielen (To be played in the garden) by Manfred Trojahn. These performances will be accompanied by the NDR Radiophilharmonie under the baton of Andrew Manze.
Prizes up for grabs include €30,000, numerous concert engagements, sheet music from G. Henle Verlag, a three-year-loan of a Guadagnini violin, as well as a record deal with Warner Classics.
The competition will be livestreamed throughout the 10 October, with the winners announced at 7pm CEST here.
Read: Semi-finalists selected for Joseph Joachim Violin Competition
Read: Sentimental Work: Carolin Widmann
Read: Maria Ioudenitch wins Tibor Varga International Violin Competition 2021