The cellist wins £5000 and the chance to compete for £15,000 in the Gold Medal final in November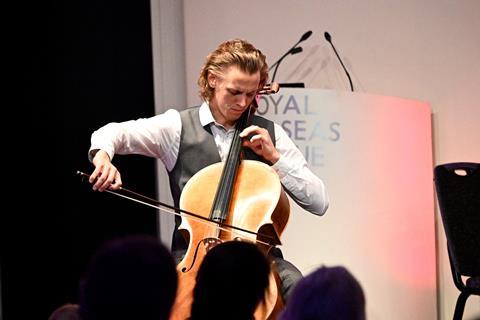 Cellist Matthias Balzat has won the string section final at the 69th Royal Over-Seas League Annual Music Competition. He wins £5000 and will go on to perform at the Gold Medal final with other instrumental finalists to compete for the first prize of £15,000 on 24 November.
As well as Balzat, the final included guitarist Jack Hancher, cellist Ben Tarlton and violinist Elodie Chousmer-Howelles, who was awarded the £1,000 Len Lickorish Memorial Prize for a String Player of Promise. The adjudicators were Leon Bosch, Alice Neary, Geoff Parkin, and Emily Sun.
Originally from New Zealand, Balzat studied at Waikato University under James Tennant and graduated at the age of 17. He currently resides in Düsseldorf as a masters student at the Robert Schumann Hochschule, studying with Pieter Wispelwey. Matthias has been a prize winner at the Gisborne International Music Competition and New Zealand National Concerto Competition and has appeared as soloist with numerous orchestras in New Zealand and Germany.
The ROSL Annual Music Competition Section Finals will continue each Tuesday evening, continuing with rounds for string ensembles, mixed ensembles and the overseas award. Previous Gold Medal string winners include violinists Eleanor Corr and Emily Sun, and cellists Pei-Sian Ng and John Myerscough.
Founded in 1910, the ROSL is a non-profit private members' club dedicated to helping artists and musicians across the Commonwealth connect, collaborate and create.
Watch: Eleanor Corr performs her ROSL section winning recital
Read: María Dueñas wins Grand Prize at Viktor Tretyakov Violin Competition
Listen: The Strad Podcast Episode #3: Benjamin Baker on performing solo Bach