Following the semi-final rounds over 23-24 October, three cellists from Canada, South Korea and Japan will perform in the final on 28 October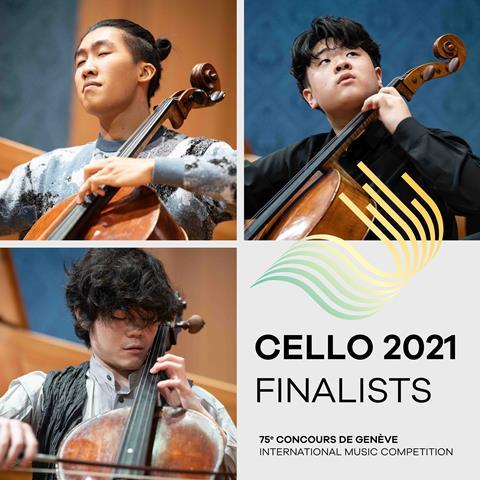 Three cellists have progressed to the final round of the Geneva Cello Competition. They are:
Bryan Cheng (24, Canada)
Jaemin Han (15, South Korea)
Michiaki Ueno (25, Japan)
This follows the semi-final rounds where contestants performed a recital consisting of a Bach or Boccherini Sonata, a contemporary solo work and repertoire of free choices. The finalists will perform their choice of concerto (Schumann, Shostakovich, Elgar, Lutosławski or Dutilleux) on 28 October at 7pm (CEST) with Orchestre de la Suisse Romande, conducted by Georg Fritzsch. Finalists will perform for the opportunity to win first prize of CHF 20,000.
Listen: The Strad Podcast Episode #14: Nicolas Altstaedt on the Lutosławski Cello Concerto
Listen: The Strad Podcast Episode #6: Johannes Moser on the Elgar Cello Concerto
The jury is chaired by Ivan Monighetti (Russia/Switzerland), with other members Thomas Demenga (Switzerland), Michaela Fukačová (Czech Republic), Ophélie Gaillard (France), Clive Greensmith (UK), Qin Li-Wei (China / Australia) and Shauna Rolston (Canada).
Founded in 1939, the Geneva Competition offers competitions each year with rotating disciplines of piano, flute, clarinet, cello, viola, string quartet, voice and percussion, with a composition prize offered every second year. The previous edition of the cello competition was held in 2008, which was won by István Várdai.
Watch: LIVE: Geneva Cello Competition semi-finals - watch here!
Listen: The Strad Podcast Episode #17: Nikolaj Szeps-Znaider on competitions
Read: Masterclass: Jan Vogler on Beethoven Cello Sonata op.69