The 20-year-old violinist is the first Italian in 24 years to win the competition, claiming €30,000 and the opportunity to perform on Paganini's violin, 'Il Cannone'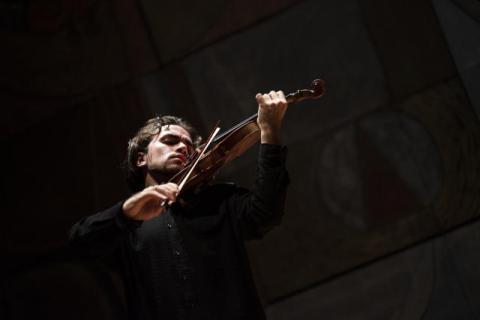 Following a year of Italian international success at Eurovision, the UEFA European Championship and the Tokyo Olympic Games, an Italian violinist has won the 56th Paganini Violin Competition, becoming the first Italian to win the competition since Giovanni Angeleri in 1997.
Adding to Italy's accolades, 20-year-old Giuseppe Gibboni took first prize of €30,000 at the final round on 24 October, held at the Teatro Carlo Felice in Genoa. He also won prizes for best performance of a Paganini concerto, best interpretation of a Paganini Caprice and the audience award. Gibboni also receives international representation by Utopia Media Agency, as well as numerous concert engagements, including the opportunity to perform on Paganini's old violin, the 1743 Guarneri 'del Gesù' 'Il Cannone'.
Nurie Chung (16, South Korea) won second prize, as well as prizes for the youngest competitor and for best performance of the commissioned contemporary piece by Carlo Boccadoro. Joint third prize went to Ava Bahari (25, Sweden) and Lara Boschkor (22, Germany). The deciding jury consisted of Sergei Krylov (President), Pietro Borgonovo, Pierangelo Conte, Francesca Dego, Stephanie Gonley, Aiman Mussakhajayeva, Christoph Poppen, Jacobs Soelberg, and Pavel Vernikov.
The Paganini competition has come a long way since its first edition in 1954 - where there were only two competitors, with neither pronounced as the winner. Previous winners include Salvatore Accardo (1958), Gidon Kremer (1969), Leonidas Kavakos (1988), Sayak Shoji (1999), and most recently, Kevin Zhu (2018).
Listen: The Strad Podcast Episode #4: Francesca Dego on playing 'Il Cannone'
Listen: The Strad Podcast Episode #17: Nikolaj Szeps-Znaider on competitions
Watch: Violinist Shlomo Mintz performs Paganini Caprice no.5