Sphinx Competition winner Amaryn Olmeda joins Opus 3 Artists as the initial member of the San Francisco Conservatory of Music and Opus 3 Artists' apprentice programme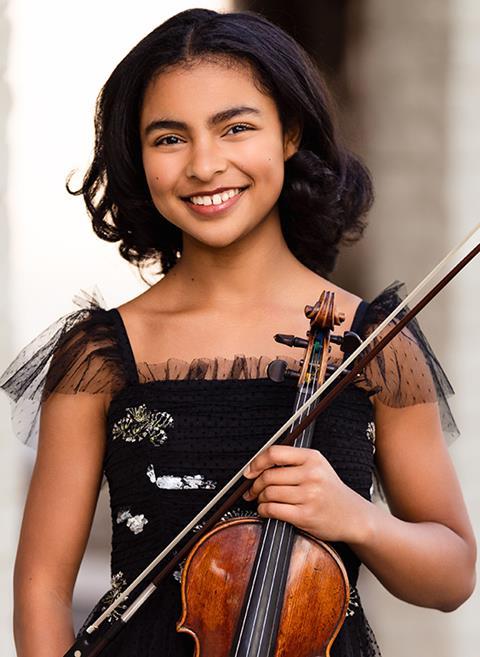 The San Francisco Conservatory of Music (SFCM) and Opus 3 Artists have signed American violinist Amaryn Olmeda as the initial member of the Artist Apprentice programme.
The mentorship initiative pairs seasoned managers with a musician in the initial stages of their career and a network of support carefully crafted for the individual. For Olmeda, the programme will see the Sphinx Competition winner working with SFCM Isaac Stern chair of violin Ian Swensen and Opus 3 Artists' managing director Robert Berretta as well as senior vice president and artist development manager Patricia Winter and associate manager Constance Chiu.
This appointment will make Olmeda Opus 3 Artists' youngest member.
'In Amaryn, we see a unique combination of superb training, keen musical instinct and charisma beyond her years,' said Opus 3 managing director Rob Berretta. 'We are proud to welcome her to the Artist Apprentice Programme, which continues Opus 3 Artists' decades-long legacy of finding, nurturing and developing extraordinary young musical talent while delivering our common goal with SFCM to advance the future of music and offer successful platforms for artists at the start of their careers.'
Amaryn Olmeda won first prize and the audience choice award at the 24th Annual Sphinx Competition in 2021 at aged 12 and since then she has debuted with the Philadelphia Orchestra, Seattle Symphony, Buffalo Philharmonic, Richmond Symphony, Stockton Symphony, Auburn Symphony and Classical Tahoe Orchestra. Olmeda was named Young Artist Soloist by the Seattle Symphony and received first prize in the Auburn Symphony Young Artists and Music in the Mountains Young Musicians competition.
'I am incredibly thrilled and honoured to join the family of Opus 3 Artists,' said Olmeda. 'Opus 3 has a long history of representing the finest solo performers and ensembles around the world, and now I have the privilege to be a part of their legacy. I am ecstatic about this opportunity, and I am looking forward to being on the stage again, this time as an Opus 3 Artist!'