Top emerging string players feature in the 2022-24 intake for the prestigious talent development scheme, including cellist Santiago Cañón-Valencia, the Leonkoro Quartet and violinist Geneva Lewis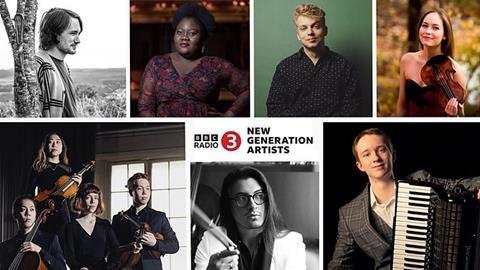 From September 2022, young performers from four continents will join the BBC Radio 3 New Generation Artists scheme. The artists will enjoy a programme of performances, broadcasts and creative development until 2024.
The new string players accepted into the scheme this year are Colombian cellist Santiago Cañón-Valencia, the Berlin-based Leonkoro Quartet, New Zealand-born violinist Geneva Lewis.
Scottish jazz pianist Fergus McCreadie and South African soprano Masabane Cecilia Rangwanasha have also joined the scheme. For the first time in the scheme's history, places have been given to an accordionist, Ryan Corbett from Scotland, and a countertenor, Hugh Cutting from England.
'It is a privilege for Radio 3 to be providing performance and broadcast opportunities to young artists as they embark on their international careers,' commented Alan Davey, the controller BBC Radio 3 and Classical music.
'This year, we are particularly proud that the New Generation Artists joining the scheme showcase a variety of instruments and voices and come from many corners of the world. This means that our audiences can experience and discover a variety of music by encountering these inspiring young performers. We hope listeners will enjoy witnessing these young artists as they push boundaries, evolve, and leave their own personal mark on the art of music.'
Launched in 1999, the New Generation Artists scheme supports young musicians at the beginning of their international careers with performance opportunities in London and around the UK. These include solo recitals, performances with the BBC orchestras, and appearances at some of the UK's most prestigious venues and festivals, including the BBC Proms, Cheltenham Festival, Edinburgh International Festival, London's Wigmore Hall, the Ulster Hall, and Snape Maltings among many others. Through broadcasts on Radio 3 these rising stars are heard by listeners all over the UK, and across Europe through the European Broadcasting Union.