The trio joins the roster for North American representation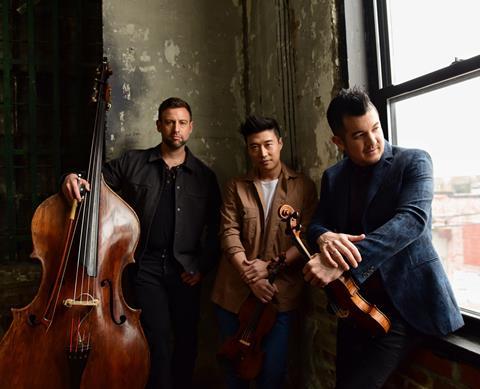 Opus 3 Artists has welcomed Time For Three to its roster. 'The spontaneous and virtuosic trio defies convention and boundaries, standing at the busy intersection of classical music, Americana, and singer-songwriter,' commented the management company on social media.
'Time for Three is thrilled to join Matthew Oberstein and Opus 3 Artists for North American bookings,' said the trio. 'We have so much respect for our colleagues on this tremendous roster. Further, Matthew has been a longtime friend, looking after many of our peers in the industry, and is someone that we feel really understands our creative vision firsthand.'
Time For Three will continue to work in partnership with Park Avenue Artists for general management. The trio, comprising Nick Kendall (violin/vocals), Charles Yang (violin/vocals) and Ranaan Meyer (double bass/vocals), released its latest album on Deutsche Grammophon, Letters for the Future, featuring world premiere recordings of concertos by Pulitzer Prize-winning composers Jennifer Higdon and Kevin Puts.
The trio are currently touring the United States, having performed the premiere performance of Contact by Kevin Puts on 14 July with the San Francisco Symphony Orchestra. Future performances include with the Philadelphia Orchestra at Saratoga Performing Arts Center on 28 July and with Sun Valley on 13 August.
Time For Three will feature in a future episode of The Strad Podcast