Cellist Sinéad O'Halloran will join the London-based quartet following the departure of Steffan Morris earlier this year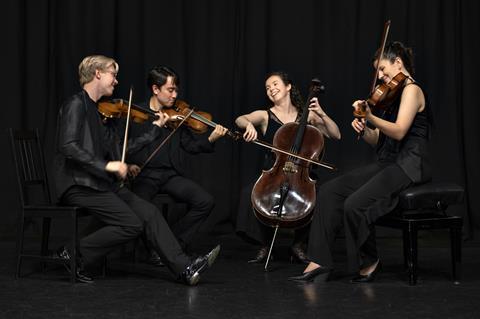 The Marmen Quartet has appointed Sinéad O'Halloran as its new cellist.
The Irish cellist was a former principal of the European Youth Orchestra, leading the section at the BBC Proms and has also performed with the Chamber Orchestra of Europe, Irish Chamber Orchestra, Spira Mirabilis, Georgian Chamber Orchestra and the iPalpiti Ensemble of International Laureates.
She states, 'I was incredibly lucky to grow up in an environment where chamber music was the centre of my musical education. I am so delighted to be joining the Marmen Quartet and after such a fun few weeks together I cannot wait to see where this journey takes us!'
Read: Marmen Quartet joins Sulivan Sweetland management roster
Read: New violist for Australian String Quartet
The Marmen Quartet was formed in 2013 at the Royal College of Music. In 2019 they won the Grand Prize of the Bordeaux International String Quartet Competition as well as the First Prize of the Banff International String Quartet Competition. Upcoming season highlights for the quartet include debuts at the Berlin Philharmonie, Boulez Saal and the BBC Proms as well as a two-year residency at Southern Methodist University in Dallas, Texas.
O'Halloran currently plays on a Benjamin Banks cello c.1780.