The ensemble's Autumn season will consist of 13 streamed concerts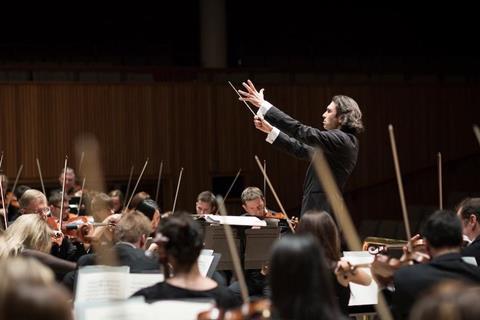 The London Philharmonic Orchestra is to return to the Royal Festival Hall on 30 September to launch 'In the Stream of Life', an Autumn season of 13 concerts.
For each concert the orchestral forces will comprise approximately 60 players, to be complemented by instrumental and vocal soloists. Edward Gardner, Principal Conductor Designate, opens the season with a programme of Widmann, Sibelius and Beethoven. Other conductors this season include Principal Conductor Vladimir Jurowski, Principal Guest Conductor Karina Canellakis, and guests John Storgårds, Jukka-Pekka Saraste, Thierry Fischer, Daniele Rustioni, Hannu Lintu and Thomas Søndergård.
Ten of the programmes continue the 2020 Vision series which juxtaposes pivotal works from the 21st century with those composed a century and two centuries earlier. In addition to Jörg Widmann's Con brio in the opening concert, the season features contemporary works by Julian Anderson, Anna Clyne, Jonathan Dove, Elena Kats-Chernin, Thomas Larcher, Magnus Lindberg, James MacMillan, Lotta Wennäkoski, and Brett Dean, who will be the LPO's Composer-in-Residence through to 2023.
All 13 concerts will be streamed on Marquee TV, with audiences granted free access for the first 7 days, after which performances will be added to the LPO collection of concerts, and will be accessible to Marquee subscribers. The concerts streamed on 4 and 11 November will be broadcast live from the Royal Festival Hall at 7.30pm on BBC Radio 3 on 21 and 23 October respectively.
The orchestra has continued to make music in some form throughout the pandemic. In late June its musicians came together to play together in small chamber groups for the LPO Summer Sessions from Henry Wood Hall, and in August they played to audiences with small-scale outdoor performances at Glyndebourne and indoor at Snape Maltings.
The ensemble has also given online lessons and seminars to young musicians, delivering a series of online creative music-making workshops for both adults and children with special educational needs and disabilities, and creating compositional resources with contributions from composers Howard Shore and David Arnold, and dancer/choreographer Monique Jonas. The annual Debut Sounds concert, featuring five emerging composers who have been mentored by Sir James MacMillan, will be recorded next week. Later in the autumn, the Orchestra will film several GCSE Music set works for secondary schools audiences.
Read: London Symphony Orchestra moves autumn season to LSO St Luke's
Read: Academy of St Martin in the Fields presents a series of autumn concerts with live audience
Read: Czech Philharmonic launches 125th season to capacity audiences
The orchestra has also been in the recording studio for Decca recording an album of operatic arias.
Plans are also in place for a tour of Germany and Belgium in October, details of which will be announced later.
Commenting on the Autumn 2020 season, the London Philharmonic Orchestra's Chief Executive David Burke said:
'With so much upheaval and uncertainty over recent months, context and perspective have become ever more important. We are reminded how for centuries orchestral music has offered people solace, hope and improved wellbeing. With this in mind this in mind we were determined to offer a full season or typically ambitious programmes to our audiences in the UK and overseas.
'I wish to pay tribute to the players and staff of the London Philharmonic Orchestra who have risen to the many challenges posed by the pandemic with great creativity, commitment and determination to ensure that the power of orchestral music is still being brought to audiences around the world. It is an incredibly important next step to be able to bring the full Orchestra back to play together for the first time after so many months.'
'Thanks must also go to our many supporters who have not only made this autumn season possible, but have enabled all players to receive a liveable income for as long as necessary.'