The season will launch on 23 September with a programme of Shostakovich and Mahler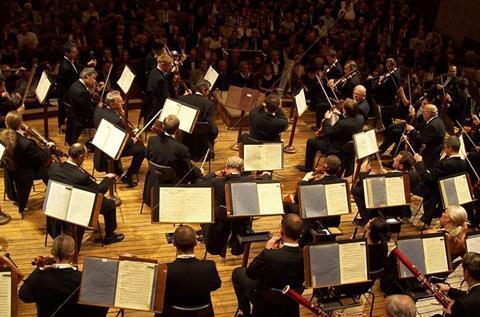 Having already given a concert to an audience of more than 500 (on 24 June) at Sychrov Castle outside Prague, the Czech Philharmonic has announced that it will be launching its 125th season to capacity audiences on 23 September. The programme will open with Shostakovich's Piano Concerto No.1 with pianist Daniil Trifonov and trumpeter Selina Ott, and close with Mahler's Symphony No.5. The second of these concerts will be broadcast live and streamed internationally on Mezzo Live HD and Medici.tv.
A day later, on 25 September, the Czech Philharmonic and its chief conductor Semyon Bychkov will travel to Vienna to present the same programme in the first of three concerts this season at the Wiener Konzerthaus.
Earlier in the month on 4 and 5 September, Bychkov and the Czech Philharmonic will open the 2020 Dvořák Prague International Music Festival with an all-Dvořák programme featuring the Cello Concerto performed by the Czech Philharmonic's Cello Principal Václav Petr and the New World Symphony.
Among the highlights of the season will be the launch of a new annual concert on 17 November, commemorating 1989's Velvet Revolution; the continuing recording cycle of all of Mahler's Symphonies; the world premières of works commissioned from Bryce Dessner, Detlev Glanert and Thomas Larcher; concerts in Slovakia and Spain, ; and a European capitals tour with concerts in Paris, Brussels, Amsterdam and London.
Read: Czech Philharmonic performs first live concert with no social distancing restrictions
In addition to Bychkov's concerts with the Czech Philharmonic, there will be performances from the orchestra's Principal Guest Conductors Jakub Hrůša and Tomáš Netopil. And, continuing the Czech Philharmonic's opera in concert series which launched in 2016 with Janáček's Jenůfa conducted by Jiří Bělohlávek, Sir John Eliot Gardiner will present Janáček's The Cunning Little Vixen in November and Netopil, Martinů's Ariane in December.
The country's handling of the coronavirus has allowed the Czech Philharmonic to present concerts since the beginning of lockdown. In addition to three benefit concerts streamed live internationally and raising funds for hospitals, the charity ŽIVOT 90 and the People in Need Foundation (Člověk v tísni), at the beginning of June, the Orchestra launched a summer-long series of chamber concerts in collaboration with the Czech Chamber Music Society.
Bychkov says: 'We are impatiently looking forward to welcoming you back to our Rudolfinum and every other venue in which we will perform. However devastating the crisis of the moment is, it is also an opportunity for all of us to assess how we live and how wecan start living better. For us musicians, it means making even better music than ever before.'