The three finalists will perform a concerto at the grand final on Wednesday 14 December 2022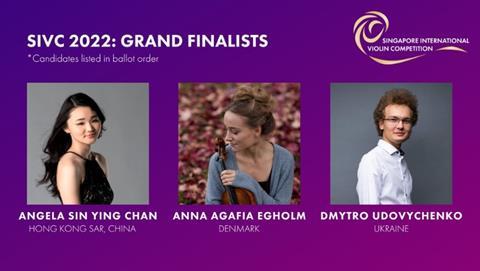 Read more news articles here
The grand final of the 2022 Singapore International Violin Competition will be held on 14 December, 7.00pm, Victoria Concert Hall. Whittled from 26 candidates who have been competing since 1 December, three grand finalists will compete for the top prize. They are:
Angela Sin Ying Chan (Hong Kong/China)
Anna Agafia Egholm (Denmark)
Dmytro Udovychenko (Ukraine)
Chan and Egholm will perform the Beethoven Violin Concerto, while Udovychenko will perform the Brahms Violin Concerto, with the Singapore Symphony and Joshua Tan.
The contestants will perform for the chance to win prizes from a pool worth over USD $110,000, including first prize of USD $50,000, plus concert engagements and special performance awards. Notably, the competition will award three-year fine violin loans from the Rin Collection for the top six contestants. These instruments include:
1680 Stradivari 'ex-D'Annunzio-Baccara'
1719 Carlo Tononi
1721 Domenico Montagnana
1753 Giovanni Battista Guadagnini
1793 Lorenzo Storioni
1840 Giovanni Francesco Pressenda
This year's competition jury is chaired by Qian Zhou and comprises Martin Beaver, Martin Engstroem, Lee Kyung Sun, Mihaela Martin, Joel Smirnoff, Tsu Vera Weiling and Krzysztof Wegrzyn.
The Singapore International Violin Competition was launched in 2014 and is open to all violinists aged 30 and below. Held triennally, the previous first prize winners were Sergei Dogadin in 2018 and Tseng Yu-Chien in 2015.