Born in poverty and initially self taught, he went on to mentor generations of violin makers at his lutherie school in Parma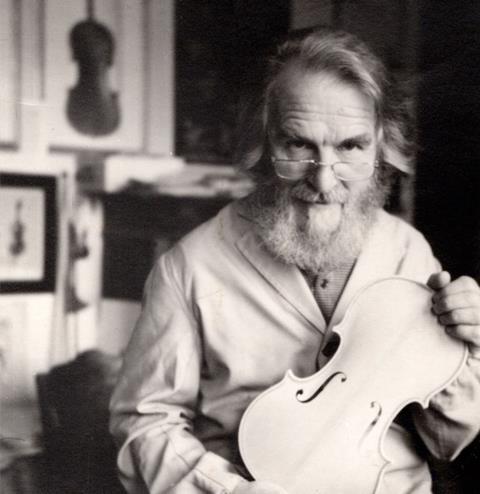 Renato Scrollavezza, who died yesterday at the age of 92, was one of the leading figures of Italian violin making in the 20th century.
He was born to a family of farmhands and grew up in Noceto near Parma. The rural community was plunged into poverty and famine during the second world war and he recalled that when he presented himself for conscription at the age of 18, he weighed 50 kilos and had lost all his teeth.
He had apprenticed as a furniture maker and continued the trade following the end of the war, as well as experimenting with making musical instruments. In 1950 he applied to the Cremona Violinmaking School with a self-made violin and was admitted.
He studied in Cremona for four years and on graduation came second in the city's National Violin Making Competition. This early recognition and a succession of national and international prizes throughout the late 50s and 60s guaranteed Scrollavezza a steady income, and also caught the attention of the head of the Conservatorio Arrigo Boito in Parma.
In 1975 Scrollavezza was invited to form a lutherie school as part of the music college, where he taught from 1975 to 2014, and which still operates today following a move to the Castello della Musica in Noceto.
'Once I began to teach, a whole new world opened up for me,' Scrollavezza said in an interview in 2017. 'I would have never believed it because I'm so shy, but I simply fell in love with giving something to others.'
He stopped making instruments for sale in the early 80s, prefering to concentrate on teaching and research. He was also contracted by the City of Genoa to act as curator of Paganini's 'Il Cannone' Guarneri del Gesù violin.
As well as mentoring generations of young violin makers in Parma and Noceto, Scrollavezza also passed on the lutherie bug to his daughter Elisa, who maintains the Scrollavezza & Zanrè workshop, research and publishing house with her husband Andrea Zanrè in Parma.
Renato Scrollavezza, born 14 April 1927, died 14 October 2019.