The concert, taking place on 21 November, features eleven instruments all made by luthier Renato Scrollavezza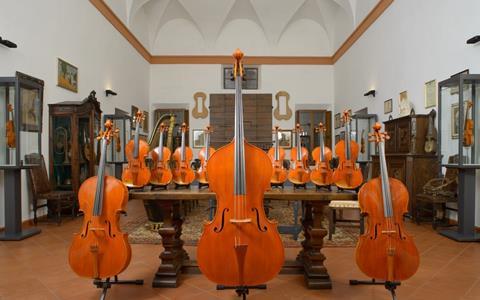 Explore more lutherie articles here
The Casa della Musica, a performance space housed in a Renaissance palace in Parma, Italy, is marking its 20th anniversary with a week-long festival from 21 to 27 November. Among the events are two concerts by Europa Galante under music director Fabio Biondi, performing on a matched ensemble of eleven stringed instruments. All were crafted by Parma luthier and teacher Renato Scrollavezza, and were gifted to the city by daughters Marta and Elisa Scrollavezza after the luthier's death in 2019.
Created between 1981 and 1984, the 'Orchestra da Camera Renato Scrollavezza' comprises six violins, two violas, two cellos and a double bass. Scrollavezza intended to create a group 'to be played as if it were a single instrument'. The instruments were first played in concert in 1985, by I Musici di Pina Carmirelli, and have been loaned out to musicians many times since.
At the concert on 21 November, Europa Galante will perform Mendelssohn's Violin Concerto, his Symphonies for Strings nos.2, 5 and 7, and the Salve Regina for soprano. This last will be performed to honour the concert venue, the recently restored Church of San Francesco del Prato, which overlooks the Casa della Musica.
Scrollavezza was one of the leading figures of Italian violin making in the 20th century. In 1975 he was invited to form a lutherie school as part of the Parma music college, where he taught from 1975 to 2014, and which still operates today following a move to the Castello della Musica in Noceto. He stopped making instruments for sale in the 1980s, prefering to concentrate on teaching and research. He was also contracted by the city of Genoa to act as curator of Paganini's 'Il Cannone' Guarneri del Gesù violin.