Brett Yang, one half of YouTube comedy duo TwoSet Violin, recalls discovering that his violin was made by Renato Scrollavezza - and then meeting the luthier himself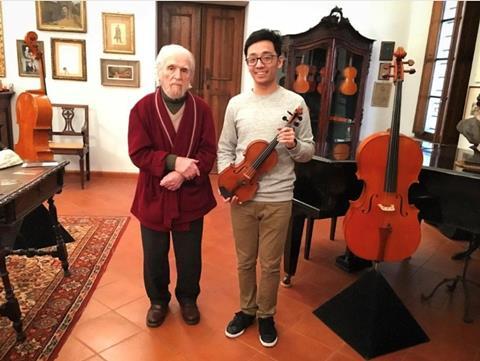 The following is an extract from The Strad's August 2020 issue profiling YouTube comedy duo TwoSet Violin. To read in full, click here to subscribe and login.The August 2020 digital magazine and print edition are on sale now.
I got my violin my it from my old teacher. It was my first full-size instrument and I've never changed it. The label is a bit worn, and the R of Renato looks like a K, so I read it as Kenato – the whole time I was thinking, who's this Japanese–Italian dude?
Later on, one of my teachers at the Queensland Conservatorium saw it and said, 'Oh, you've got a Renato Scrollavezza.' I was like, 'What did you just say?!' So I looked online, and found out his daughter was in Parma, in Italy.
Read: 'One thing I'm grateful for is the amount of practice I did growing up' – TwoSet Violin
Watch: Hilary Hahn and TwoSet Violin play Paganini while hoola-hooping
When we were on tour in Italy, I messaged her, saying, 'I think I have a violin by your father.' I stayed back after the tour to meet her and show her the violin. She looked at it and wasn't sure, but she said, 'Look, let's take it to my father.'
We drove out into the countryside to Renato's house and knocked on the door. I'll never forget when I showed him the instrument; it was one of the best moments of my life. He looked at it, observing it, looking at the back, looking at the front, looking at the scroll. All of a sudden, a tear came out of his eyes. And I almost cried as well. It was just like a little baby coming back, reunited with its family after 40 years. He couldn't believe it had ended up on the other side of the world.
This article was published in the August 2020 TwoSet Violin issue

The YouTube comedy duo discuss graduating from viral videos to sold-out stage shows. Explore all the articles in this issue.

More from this issue…