After forty-one years, the group is set to retire at the end of this year's Leeds residency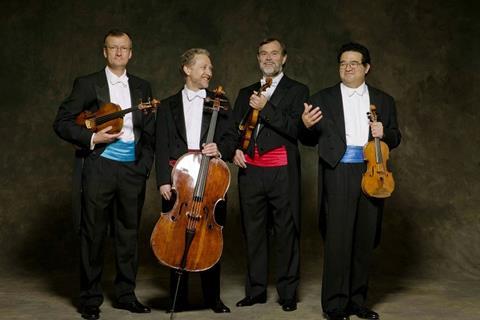 After more than four decades of performing together, the Endellion String Quartet is set to retire. This year's performances as part of their annual spring/summer residency at The Venue, Leeds College of Music (which is part of Leeds International Concert Season) will be their last together.
David Waterman, cellist of the Endellion String Quartet, says: 'After forty-one years as a string quartet (three of us from the outset, and Ralph, the new boy, in his thirty-fourth year as an Endellion), we have decided that the time has come to hang up our collective quartet bows in the summer of 2020. So this season will be our final series at The Venue where we have performed over seventy concerts.
'For our final season, we have chosen pieces which have a special place in our hearts and that we have lived with for many years… It has been a marvellous journey and we hope our audiences will join us for all four of our final concerts.'
The Endellion's 2020 season at The Venue includes a varied mix of the quartet's favourite pieces, from late Beethoven quartets and several great works by Haydn, to three twentieth-century classics by Shostakovich, Janáček, and Bartók.
The Endellions will also be joined for one last time by violist, and great friend of the quartet, David Adams to perform two of Mozart's quintets and Beethoven's rarely performed Prelude and Fugue for String Quintet.
Concerts take place on Tuesdays at The Venue, Leeds College of Music at 7.30pm.