The quartet, which was founded in 1981, plans to disband at the end of the 2020-21 season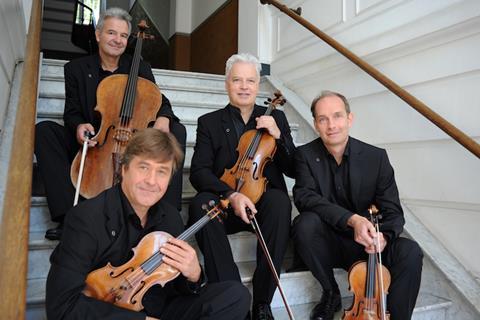 After four decades together, the Auryn Quartet, based in Cologne, has announced that they will disband at the end of the 2020-21 season.
Comprising violinists Matthias Lingenfelder and Jens Oppermann, violist Stewart Eaton and cellist Andreas Arndt, the ensemble has won numerous accolades including 1st prize at the 1982 London International String Quartet Competition, the 1982 ARD International Music Competition and the main prize at the European Broadcasting Competition in Bratislava. Their discography includes the complete 68 Haydn Quartets.
They have appeared worldwide at venues including Tucson's 500-seat Leo Rich Theater, Lincoln Center, Amsterdam's Concertgebouw, and London's Wigmore Hall, where they performed a complete cycle of the Beethoven quartets.
In addition, the Auryn Quartet runs its own annual chamber-music festival, Incontri Internazionali, in Este, Italy. The members are artistic directors of the Musiktage Mondsee (Mondsee Music Days) lakeside festival in Mondsee, Austria, and chamber-music professors at the Music Academy in Detmold, Germany.
Already accomplished young musicians, Auryn co-founders Eaton and Lingerfelder met in their 20s at an orchestral festival in Aberdeen, Scotland. When Eaton suggested that he and Lingenfelder start a quartet, Lingenfelder contacted Arndt, whom he'd known since their teenage years playing with the German National Youth Orchestra, and with Oppermann, who had been impressed with Lingenfelder's performance in a Mendelssohn quartet.
They called themselves Auryn after the popular 1979 German fantasy novel, The Neverending Story by Michael Ende, in which the seeker calls on the powers of a magic amulet called Auryn.
Between 1982 and 1987, the ensemble studied with the Amadeus in Cologne and with the Guarneri at the University of Maryland at College Park, where they spent two semesters learning from their mentors, but also enjoying free time, performing at the Schubert, Schubert, and Schubert Festival at Georgetown University's Gaston Hall.
It was the Amadeus Quartet that inspired the four to pledge at the start that they would stay together as a quartet for 40 years.
Now on the brink of fulfilling that ambition, the quartet has said via social media, 'We would like to thank all our friends and followers … and ask you to please join us at our concerts over the next two years for our "goodbyes".'