The group, founded in 2019, receives €15,000 and a Naxos recording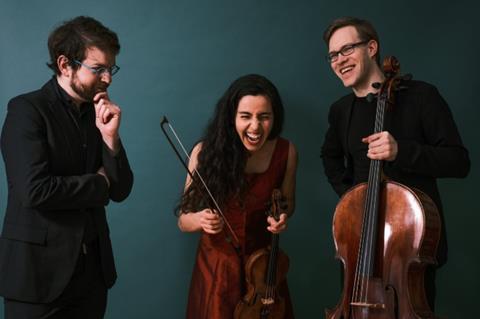 The aptly named Egmont Trio has won first prize at the 'Beethoven in His Time' Competition for historical performance practice, taking place in Siegburg, Germany. The trio, consisting of violinist Luiza Labouriau, cellist Martin Knörzer and pianist Gilad Katznelson, received €15,000 and the chance to record a CD with Naxos. The group also won a special award for the best interpretation of a piece by Ferdinand Ries.
In its citation, the jury said the Egmont Trio had 'faced the most difficult challenges with breathtaking ease. In the usual categories such as technical ability, understanding of style, phrasing and expression - everything was at the highest level. But above all, it was the trio's virtuoso creativity that delighted the jury.' The trio also won a special award for the best interpretation of a piece by Ferdinand Ries.
The second prize, also worth €15,000, was won by the Alterna Trio, made up of violinist Anna Dmitrieva, cellist Amarilis Dueñas Castán and pianist Takahiko Sakamaki. The trio also won the prize for the best interpretation of a Beethoven work, while Dueñas Castán won the Richard-Wagner-Stipendium grant.
Read: Mithras Trio wins Trondheim Chamber Music Competition
Read: Delta Piano Trio wins Dutch chamber music award
Read: Hannari Piano Trio wins Lenzewski Foundation Prize
The competition jury consisted of David Breitman (USA), Jacqueline Ross (UK), Marco Testori (Italy), Olga Pashchenko (Russia), Viola de Hoog (Netherlands), Petra Müllejans und Richard Lorber (both Germany). The competition was a project of the Siegburg Music Workshop, as part of the 2020 celebrations for Beethoven's 250th birthday.
In the final round, the Egmont Trio performed Beethoven's Trio no.5 in D major op.70 no.1; Joseph Woelfl's op.5 no.1 in G major; and Ferdinand Ries's Grand Trio Concertant op.2 in E flat major. The winning performance can be seen below.