The UK-based ensemble wins €15,000 and festival engagements in 2020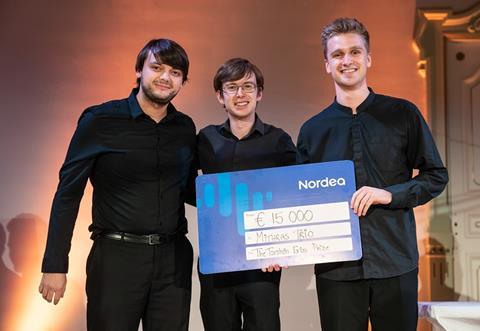 The Trondheim International Chamber Music Competition named the Mithras Trio as its first prize winner on Friday evening.
The final round of the 10th TICC competition was held in the Norwegian city's Freemasons Hall, and the UK-based Mithras Trio impressed with their performance of Beethoven's 'Ghost' Trio, op.70 no.1 in D major.
Trio Hèlios came second, winning €10,000, and Trio Opal came third winning €5,000. Trio Opal also won the audience prize, guaranteeing an invitation to the 2020 festival, plus had already received the €2,000 Kim Trio Commission Prize for their peformance of the Erlend Skomsvoll Playfulness in the semi-final.
Violinist Ionel Manciu, cellist Leo Popplewell and pianist Dominic Degavino formed the Mithras Trio in 2017 at the Guildhall School of Music and Drama in London. The group has since won the Royal Over-Seas League Music Competition, the Cavatina Intercollegiate Chamber Music Competition 2019 and the St. James Chamber Music Competition 2018.
Founded in 2000, the Trondheim International Chamber Music Competition is held every two years, alternating between string quartets and piano trios. The 2017 contest was won by Maxwell Quartet, 2015 by Trio Isimsiz, and 2013 by the Van Kuijk Quartet.
This year's jury comprised Lambert Orkis (jury leader, Sharon Bezaly, Thomas Hoppe, François Kieffer, Sølve Sigerland, Tanja Tetzlaff and Marianne Thorsen.