Robin Stowell reviews both a new Bärenreiter urtext edition of the work, and a book-length commentary on the piece by Nancy November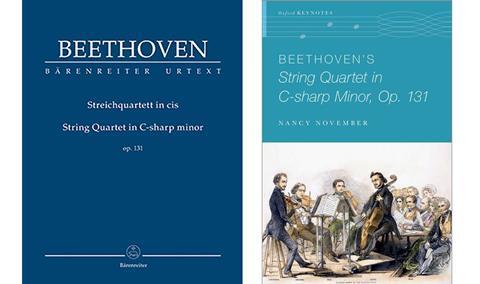 Ludwig van Beethoven String Quartet in C sharp minor op.131: Urtext Edition
Ed. Jonathan Del Mar
Parts ISMN 9790006568536 £24.50
Critical Report (English)
ISMN 9790006568529 £32.50
Study Score ISMN 9790006203123 £12.50
BÄRENREITER
Beethoven's String Quartet in C sharp minor op.131
Nancy November
160PP ISBN 9780190059217
OXFORD UNIVERSITY PRESS £12.99
The almost concurrent appearance of these two publications makes available not only an authoritative score and performing materials for one of Beethoven's most personal compositions, but also a collection of insightful perspectives about the work. Based on a variety of sources, which are outlined in the score but meticulously described and compared in the critical commentary, Jonathan Del Mar's scholarly edition is scrupulously thorough, not least because he appraises and incorporates many of Beethoven's pencil markings that have previously been ignored. Editorial insertions and modifications are appropriately distinguished and specific problems concerning Beethoven's notational practices are duly recorded in a preface. The musical text is clearly and spaciously presented, page turns in the parts are performer-friendly, and the musical sense and workability of editorial decisions have been tried and tested by the Endellion Quartet.
Questionable, though, is the wisdom of publishing a separate critical commentary, generously laid out with a minimum of abbreviation; many performers will wrongly dismiss this costly item, comprising 6 facsimile reproductions and 21 pages of editorial comment in extensive prose and column format, as inessential and an unreasonable additional expense, especially when the scholarly apparatus could so easily have been incorporated more succinctly, and in the now-standard 'shorthand', within the score. Nevertheless, the detail included therein is unparalleled in terms of its precision and appropriate justification for editorial decisions is painstakingly conveyed. Misha Donat contributes an interesting and informative introductory essay about op.131's genesis and structure, incorporating some insightful analysis, reference to sketches and interesting anecdotes from Beethoven's correspondence about his personal circumstances, his amusing relationship with his publisher and his interaction with Schuppanzigh's quartet and other contemporaries.
Beethoven, Schuppanzigh and the critics of their day were instrumental in cultivating in audiences an ideology of 'serious listening', especially for string quartet performances. Revisiting op.131 from a listener's perspective, Nancy November's multifaceted study embraces popular media as well as reviews, images, eyewitness accounts and musical analysis. Arranged in five chapters, it surveys Beethoven's own writings about op.131, the work's mixed reception, Wagner and others' perceived role in overturning negative criticism of it, Theodor Helm's influential opinions on its expressive and structural integration and Gustav Nottebohm and others' views on its improvisational, patchwork character. November also explores various structural and harmonic/tonal analyses of the piece, focusing on its unity. Referring to 'levels of listening', she shows how opinions of op.131 varied according to ideologies of listening, national allegiances, and the performers and their manner of execution. She concludes that adequate rehearsal and score study were gradually deemed essential for its comprehension.
The development of a new listening culture was partly encouraged by the 'new kind of part writing' that Beethoven claimed for op.131, comprising much unison writing and thematic division between the instruments and seemingly making them function as one voice. November further explores Friedrich Rochlitz's view of the work as a large-scale fantasia (or variations), aligning Beethoven's concept of creating movements as self-contained units (Stücke), articulated and connected by diverse transitions, with Friedrich Schlegel's view that the Romantic artwork constantly sought an unattainable sublimity. She also discusses op.131's predominant melancholia, drawing parallels with artworks such as Albrecht Dürer's engraving Melencolia I. November's final chapter revisits the issue of the work's unity in scholarly and popular reception, discusses Mark Andre's riss 2 as an example of a contrary, 21st-century compositional reception of op.131, and identifies the various four-hand piano arrangements of the work as being instrumental in cultivating a broader audience and a shift towards more attentive listening. Although the illustrations of various artworks are unflatteringly reproduced, November's text is informed, critical and provocative, admirably fulfilling the aims of the Oxford Keynotes series.
ROBIN STOWELL