The ensemble will receive €50,000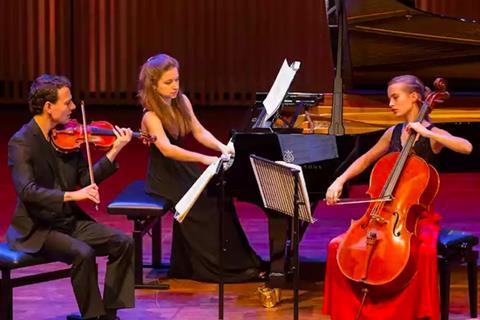 The Delta Piano Trio has won this year's Dutch Chamber Music Award (Kersjesprijs 2020), receiving €50,000.
The award, founded by conductor and violinist Anton Kersjes in 1994, supports Dutch music life, with previous winners including the Osiris Trio, Storioni Trio, Matangi Quartet, Ruysdael Quartet, Van Baerle Trio, Dudok Quartet and the Amatis Trio.
The festive award ceremony will take place in March 2021 at the Royal Concertgebouw Amsterdam.
Founded in 2013, the Delta Piano Trio, comprising violinist Gerard Spronk, cellist Irene Enzlin and pianist Vera Kooper, are former winners at the S. Vainiunas Chamber Music Competition, Lithuania and Salieri-Zinetti International Chamber Music Competition, Italy. Their debut CD, with works by Borodin and Taneyev, for Naxos Records, came out in 2017, followed, a year later, by their second, featuring music by Lera Auerbach and Shostakovich.
Read: Sphinx Competition semi-finalists announced
Watch: Xuanhan Xu, winner of Pablo Casals International Award 2020, performs for competition audition
Read: Polish National Violin Competition Zdzislaw Jahnke announces prizes
According to the Trio, the Dutch Chamber Music Award will enable them 'to record new CDs and videos, set up new projects and much more over the next three years.' The ensemble continued: 'This support and recognition mean a lot to us, especially in this uncertain period in which the cultural sector has been hit hard. The Kersjes Prize will help us to realize our musical ideas and dreams and to enter into special new collaborations. We look forward to the next three years and all the wonderful music we can share with our audience!'
Commenting on the Trio's performance, the jury said:
'The warm, sumptuous sound, the perfect balance and the compelling playing of the Delta Piano Trio took us by surprise. We are also impressed by the beautiful career that the trio has been able to realize at a young age. We would like to contribute substantially to their future'.