Plenty of gruff rhetoric and a fine, warm-toned period piano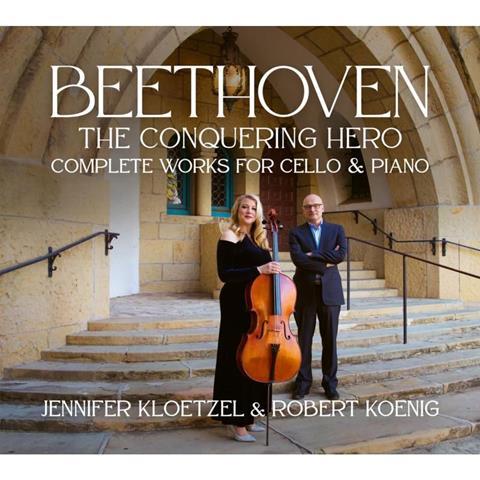 The Strad Issue: April 2022
Description: Plenty of gruff rhetoric and a fine, warm-toned period piano
Musicians: Jennifer Kloetzel (cello) Robert Koenig (piano)
Works: Beethoven: Complete music for cello and piano
Catalogue number: Avie AV2450 (3 CDs)
I enjoyed Jennifer Kloetzel's assertive, tonally assuaging cello line which anchors the Cypress Quartet's Beethoven cycle on Avie (try the opening of the 'Harp' Quartet for its exemplary, forthright address). Having gone it alone since the quartet disbanded in 2016, she brings the same qualities to the five numbered cello sonatas and three variation sets. A substantial bonus, not included by most of her rivals, is the Sonata op.17, written for a virtuoso horn player and persuasively invested here with intimations of depth not readily suggested by the original.
The gruff speaking tone of her Camillo Mandelli cello is offset nicely by the rounder, avuncular register of a lovely Blüthner piano (still mystifyingly underused on recordings, and undated in the booklet) and contained within a dry but realistic chamber-studio acoustic. Kloetzel's pacing is expansive but she plays both in continual dialogue with Koenig. Without wishing to make her a hostage to fortune, I found myself thinking of the late Casals recordings (Philips) in the plain-spoken nobility of her address to op.69's first movement.
Throughout the set, as Beethoven's music demands, there is a sense of argument and engagement, often fierce (op.102), sometimes playful (the Magic Flute variation sets). In a charmingly candid introduction, Kloetzel relates how she 'couldn't find a melody' in her first encounter with op.5 no.2, and she interrogates the pauses and strolling disquisitions of both early sonatas so thoroughly that the listener also loses the thread. The much-compressed rhetoric of op.102 draws from her a firmer cantabile and some subtle portamento to round off the more jagged edges of the quick music. The grave Adagio that forms the centrepiece of op.102 no.2 – a sustained elegy to rival any other in late Beethoven – finds both Kloetzel and Koenig in their element.
PETER QUANTRILL