The 24 year-old-violinist, who has just started as a second violinist in the Concertgebouw, has won the Netherlands Violin Competition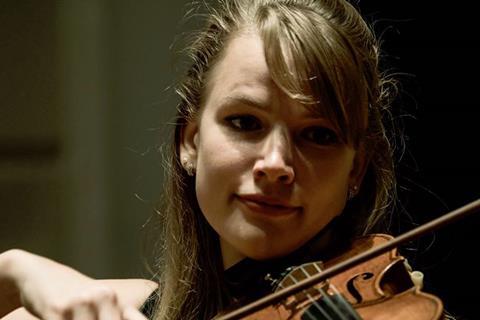 Coraline Groen has been awarded first prize of €12,000 – plus a number of important performance opportunities - in the Oskar Back (senior) category of the Netherlands Violin Competition, winning both the jury and audience prize. The 24-year-old Dutch violinist has also just taken up a position in the second violin section of the Concertgebouw.
Groen, who has been playing the violin since the age of three, graduated from the Royal Conservatoire in The Hague, where she studied with Peter Brunt and Philippe Graffin. At the Royal Academy of Music in London she studied with Rodney Friend, and completed her studies with Vera Beths with the highest possible marks. She has been a member of the academy of the Residentie Orchestra The Hague, and her earlier distinctions include the first prizes of the Britten Violin Competition and of the regional finals of the Princess Christina Competition.
Second prize of €6,000 was awarded to 19-year-old Charlotte Spruit, from the Netherlands. Third prize of € 4,000 went to the 20-year-old Dutch violinist Leon Blekh.
Sitting on the jury in the Oskar Back category were Sven Arne Tepl (Chairman) Cécile Huijnen, Rudolf Koelman, Eeva Koskinen, Joris van Rijn, Henk Rubingh, Ilona Sie Dhian Ho, Patty Hamel, Bart Oomen, Aldo de Vos, Femke Bun, Jaap van Hamond, Lotte Lepoutre, Alessandra Sanchez, Sjef van der Heijden and Dorien de Gier.
Among the biennial competition's former laureates are Janine Jansen, Liza Ferschtman, Jaap van Zweden, Emmy Verhey, Vera Beths, Daniel Rowland, Tjeerd Top and more recently Simone Lamsma and Rosanne Philippens.