Nineteen year old US violinist Julian Rhee clinches $30,000 first prize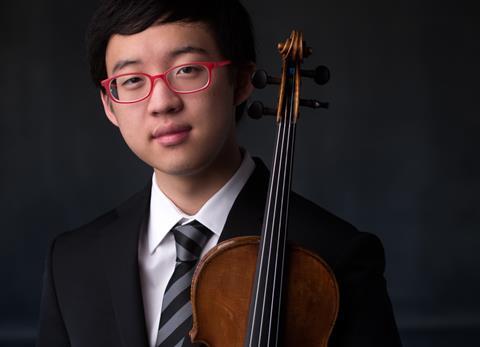 Elmar Oliveira Competition first-prize winner Julian Rhee
US violinist Julian Rhee, aged 19, has been named the first prize winner of the second triennial Elmar Oliveira International Violin Competition, which concluded on 26 January 2020 in Boca Raton, Florida.
Rhee previously won first prize at the Johansen International Competition and in January 2018 became a finalist at the National YoungArts Foundation. He subsequently appeared at John F. Kennedy Center as a Presidential Scholar in the Arts. He studied at the Music Institute of Chicago Academy, and continues his training with Miriam Fried at the New England Conservatory.
As first prize winner, Rhee receives a cash prize of $30,000 plus an Ultralight Violin by Joseph Curtin; a Silver-Mounted Bow Inspired by Elmar Oliveira's Dominique Peccatte, provided by Rodney Mohr; a Musafia Violin Case provided by Christopher Reuning, Reuning & Son Violins; more than 30 national and international performances; and a limited edition of the book Wanderer/Wonderer provided by Bruce Babbitt. Additionally, the first prize winner will receive public relations and artist management support for three years.
Second prize was won by Jung Min Choi, 25, from South Korea. She previously won first prizes at competitions in Korea, including the Ewha Kyung-Hyang Competition, Music Chunchoo Competition and Hanmi Competition. At age 12 she made her recital debut as the Kumho Art Hall Prodigy Series. She was a finalist at the Stulberg International String Competition.
Placed third was 27-year-old Russian violinist Igor Khukhua, who in 2012 won the grand prize at the 4th International Violin Competition in Astana, Kazakhstan, and second prize at the 2014 2nd Russian National Music Competition in Moscow.
The fourth finalist was Vikram Francesco Sedona, 19, from Italy. Each competitor took part in a performance at the Wold Center for the Performing Arts, with the Lynn Philharmonia conducted by Jon Robertson.
The 2020 Elmar Oliveira Competition attracted nearly 70 applications from 19 countries. The contest, which launched in 2017, is open to violinists aged 16-32.
A report from the final round of the Elmar Oliveira International Violin Competition will be published in the April 2020 issue of The Strad.