The orchestras will also present additional digital content and live, physically distanced performances across the region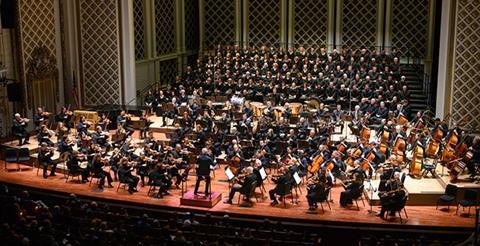 In response to Covid-19, the Cincinnati Symphony Orchestra and Cincinnati Pops are to livestream seven free Live From Music Hall concerts this autumn. Louis Langrée will conduct four CSO performances, beginning on 26 September, and John Morris Russell will conduct three Pops programmes.
The seven concerts will feature all-new performances, recorded under social distancing regulations, and will be free to view on the orchestras' website and social media channels. There are plans, too, to broadcast the events on large screens in Cincinnati's Fountain Square and Washington Park. The full schedule will be announced at the end of August.
The orchestras will also present live events for physically distanced audiences as part of CSO In Your Neighborhood. These will consist of pop-up performances in unexpected spaces throughout Greater Cincinnati featuring smaller ensembles of CSO musicians. In tandem with this, the orchestras will produce online educational content for schools in the region.
Read: Stefani Matsuo Appointed Concertmaster of the Cincinnati Symphony Orchestra
Read: Minnesota Orchestra replaces August concerts with chamber performances
Read: London's Barbican announces plans to livestream concerts
'It's more important for us than ever to be a resource for and accessible to our entire community, which is why we made the decision to make our seven Live From Music Hall digital events free,' said CSO president Jonathan Martin. 'We are actively reimagining our fall season and looking through the lens of diversity and inclusion as we showcase the exceptional talent and determination of the orchestra and our artistic leadership.'
As a result of the pandemic the orchestras have cancelled all previously scheduled 2020-21 season concerts until 3 January 2021, including the CSO's European tour.