The musicians played 20% of 'Mars' from Holst's The Planets, reflecting the fact that freelancers can only claim 20% of their income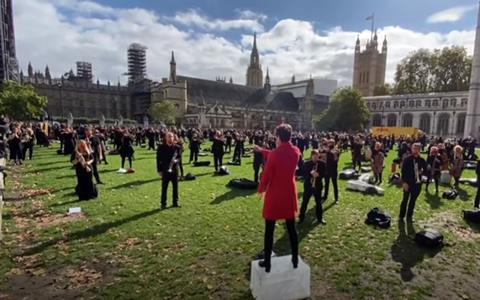 An ensemble of freelance orchestral musicians played outside the UK Parliament yesterday in a musical protest against the plight of the music industry during the current pandemic.
The 400-strong ensemble played a short segment of Holst's The Planets – just 90 seconds, or 20%, of the work - symbolising the fact that eligible freelancers can only claim a maximum of 20% of their income from the government. The conductors were David Hill and Joy Lisney. Following the performance, they held a two-minute silence.
A concurrent protest took place outside Birmingham's Symphony Hall.
The events, organised by the Let Music Live Campaign, and supported by the Musicians Union, came as chancellor Rishi Sunak was asked about the plight of musicians, and suggested they might have to find alternative employment.
Violinists Nicola Benedetti and Tamsin Little, and Glastonbury organiser Emily Eavis also attended to support to the performers, and uploaded footage to social media.
Benedetti wrote on her Twitter feed: 'Unimaginably moving. 400 freelancers gathered today in parliament square, to state their case. (Safely). Their discipline & the sound created brought tears. They are viable & visible and desperate to safely get back to work!'
Read: 10 tips for profitably teaching music lessons online
Read: Rapid Covid-19 test supports London Symphony Orchestra's return to live performance
The Musicians Union says 70% of its members have lost more than three-quarters of their regular work during the pandemic. Freelance musicians are particularly affected, says the Union, as almost half are not eligible for grants under the government's current self-employed income support scheme.
When asked about the issues facing musicians, Sunak told ITV News: 'I can't pretend that everyone can do exactly the same job that they were doing at the beginning of this crisis. Everyone is having to adapt. Theatre companies are adapting and putting on different types of performances. Plenty of music lessons are still carrying on. So, can things happen in exactly the way they did? No. But everyone is having to find ways to adapt and adjust to the new reality.'
Thus far a proportion of the chancellor's £1.57bn rescue package for the arts has been distributed to venues in England and Wales at risk of imminent closure, but an announcement of how the remaining funding will be distributed, due this week, has been delayed until next week.