Rule, Britannia! and Land of Hope and Glory will be performed in new orchestral arrangements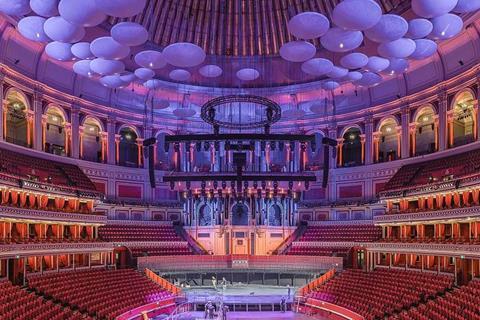 Following much heated debate online and elsewhere over whether this year's Last Night of the Proms should uphold its annual tradition of including Rule, Britannia! and Land of Hope and Glory - songs deemed by some to be offensively nationalistic - the BBC Proms have revealed full details of the programme.
Rule, Britannia! and Land of Hope and Glory will appear in the programme, but they will be played, not sung, in new orchestral versions by Anne Dudley. Rule, Britannia! will be presented as part of the Sea Songs, as Henry Wood did in 1905.
Read: BBC Proms reveals further details of its live programme
Read: BBC Proms reveals full details of socially-distanced 2020 season
Read: BBC Proms announces alternative plans for summer 2020
Read: BBC Proms delays announcement of season
The programme, to be performed with much reduced forces and no live audience, will also include a new arrangement by Errollyn Wallen of Hubert Parry's Jerusalem, whose lyrics will be sung. Elsewhere there will be a performance of Vaughan Williams's The Lark Ascending from violinist Lisa Batiashvilli and a rendition of You'll Never Walk Alone featuring soprano Golda Schultz. Dalia Stasevska will conduct a pared-down BBC Symphony Orchestra.
BBC boss Tony Hall has supported the Proms decision to play instrumental versions of the songs on its Last Night, telling the BBC 'I think they have come to the right conclusion.' He pointed out the difficulty of singing the traditional songs to an empty hall: 'it's very, very hard in an Albert Hall that takes over 5000 people to have the atmosphere of the Last night of the Proms and to have things where the whole audience normally sing along - it's quite hard creatively, artistically to make that work.'
But Prime Minister Boris Johnson has said the UK needs to stop its 'cringing embarrassment' about its history, the BBC reported.
Responding to the news that only orchestral versions of Land of Hope and Glory and Rule, Britannia! will be played, Johnson told the BBC 'I cannot believe… that the BBC is saying that they will not sing the words of Land Of Hope And Glory or Rule, Britannia! as they traditionally do at the end of The Last Night of The Proms.'
'I think it's time we stopped our cringing embarrassment about our history, about our traditions, and about our culture, and we stopped this general bout of self-recrimination and wetness. I wanted to get that off my chest.'
A statement from the BBC Proms reads 'In light of the recent speculation about the Last Night of the Proms, we are today announcing the programme for the concert. We very much regret the unjustified personal attacks on Dalia Stasevska, BBC Symphony Orchestra Principal Guest Conductor, made on social media and elsewhere. As ever, decisions about the Proms are made by the BBC, in consultation with all artists involved.'