Peter Quantrill finds a wealth of riches in this year's Proms season at the Royal Albert Hall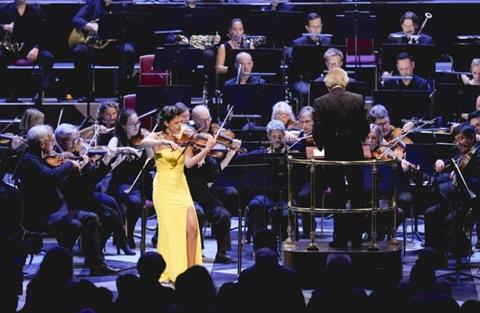 Seven violin concertos presented a surprisingly diverse bouquet of idioms at the 2023 BBC Proms, and a remarkably consistent level of finesse in performance. There were no real duds, although Elena Urioste's advocacy of the concerto by Samuel Coleridge-Taylor (19 July) failed to convince me of any claims for a neglected masterpiece. Urioste leapt into the grandiose opening theme and pulled strongly against the tide of her accompaniment as though rowing a skiff on a rolling sea. The problem lay less in any slack response from BBC National Orchestra of Wales (BBCNOW) under Tadaaki Otaka than in the ponderous character of the material itself. Urioste's slender tone and focused double-stopping carried well in the hall, but so much of her part in the outer movements is sequential noodling, repetition and imitation of Dvořák, whether in his Czech or American periods, that the verismo charm of the central nocturne brought a welcome contrast. Here the obvious model is Bruch, and his appropriation of a Neapolitan folk song in the G minor Violin Concerto, but Urioste's smiling cantabile bestowed a fleeting individuality on Coleridge-Taylor's sepia-tinted postcard.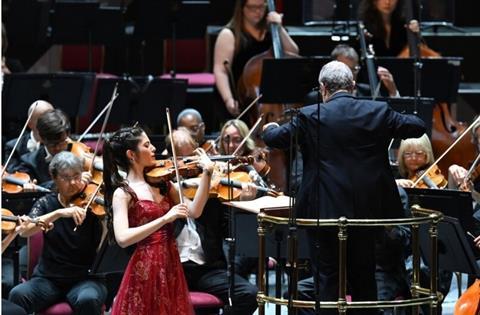 On the following night (20 July), however, María Dueñas lit up the hall with an electrifying account of Lalo's Symphonie espagnole, so improvisatory in feel and smoky in tone as to banish any reservations over the work's singular form. Just 20, but with several years' experience of performing the piece, Dueñas brings such deep and obviously native understanding to a solo part written for Sarasate that the decision to begin her DG contract with the Beethoven Concerto seems all the more obtuse.
Josep Pons, too, knew what to do with Lalo's picture-postcard Spanishry in his direction of the BBC Symphony Orchestra. Rhythms were tightly clipped all the better to give Dueñas free rein in leaning into the dance rhythms animating the solo line. Most of the piece earns its symphonic designation with continually winding movement between metres and episodes which she negotiated with sinuous grace, before projecting the Andante with the intense vulnerability of a Falla heroine.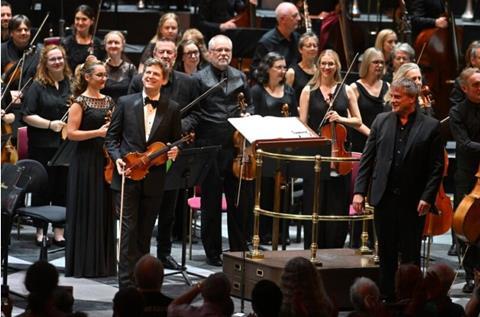 Amid a dismally wet English summer, more Mediterranean heat was brought to South Kensington by James Ehnes with Walton's Violin Concerto (3 August). The piece is so fiendishly complex on the page – fully the equal in this regard of Schoenberg's near-contemporary Concerto, both in terms of solo technicalities and orchestral textures – that each new live performance tends to sound quite different, and what Ehnes calls its 'rare and special, sad beauty' can be obscured. Not on this occasion: his self-effacing platform manner belied a reassuring weight of tone and entirely personal brand of portamento. The sheer Prokofiev-like devilment of the tarantella scherzo commanded awe, but his taming and shaping of the unpredictably angular progress of the outer movements, securely supported by the BBC Philharmonic and John Storgårds, was the greater achievement: the whole half-hour unfolded logically as it rarely does, making the return of the opening theme in the finale feel necessary rather than inevitable, and bringing tremendous catharsis to the final, Heifetz-friendly dash to the double-bar.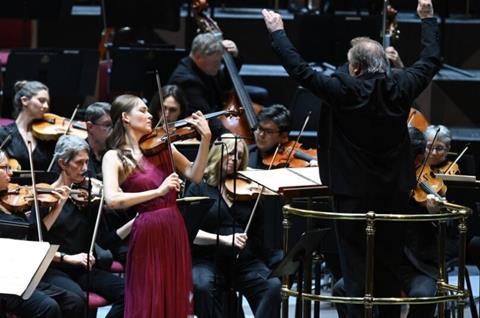 What Grace Williams's Violin Concerto looks like on the page was impossible to ascertain, even for the soloist Geneva Lewis, apparently. Preparing it for this rare revival (8 August), she had to make do with learning the piece purely from the solo line: a tough assignment and something of a 'hospital pass' for this BBC New Generation Artist. She brought it off courageously, though without giving cause to believe that the concerto would enter her repertoire (or anyone else's) any time soon. Having composed it in 1950, Williams herself had discouraged performances thereafter. The idiom follows the by-then well-worn path to Hollywood, with two opening slow movements largely untempered by Walton's diamond-tipped orchestration and bittersweet harmony. Lewis was called upon largely to soar lyrically above big film-score textures (BBCNOW under Jaime Martín), which she did without putting undue pressure on the core of her tone. Another soloist might have laid on the glamour more strongly; Lewis's restraint in this regard, and her absolute purity of intonation in some mercilessly stratospheric writing, paid off in the fast and furious, sub-Korngold finale.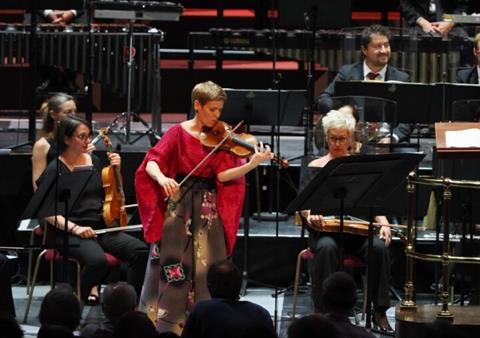 The celebrity wattage at the Proms steadily goes up as the nights draw in. Les Siècles visited on 20 August under their founder director François-Xavier Roth. Perhaps it takes a period-sensitive ensemble to bring a Neoclassical lightness of being to the hyper-complex opening game of Ligeti's Violin Concerto, and then an unadorned, almost Bachian purity to the second-movement Aria. Soloist Isabelle Faust stripped back her tone to mere threads here before building it imposingly through the course of the Lento intenso passacaglia, and then evoking an entire band of gypsy fiddlers in one superhuman whole through the finale. Her cadenza, a teamwork effort with the composer Oscar Strasnoy, revisited the concerto's main themes with characteristic intelligence, drawing it into the mainstream from Mozart to Bartók and beyond, rather than emulating the gestural extremes of Patricia Kopatchinskaja.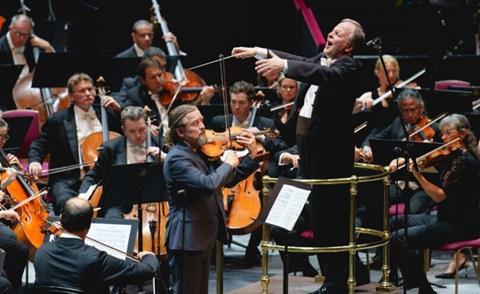 Ligeti's radical reinvention and renewal of concerto tradition is written into the score, even if it takes a virtuoso of Faust's capacities to pull it off. Elgar's Violin Concerto requires something extra from the soloist if it is not to fall back into familiar tropes of Romantic languor and Edwardian retrospection. In this regard, Christian Tetzlaff's approach, aided at every turn by Sakari Oramo's direction of the BBCSO (24 August), proved a revelation. All the turns of rubato and portamento which belong naturally to the heritage of Elgar's writing were kept on the move towards a goal of piercingly direct expression. Tetzlaff even brought a tumbling playfulness and sense of fun to passages of both outer movements which made Elgar's sudden and periodic access of deep feeling all the more profoundly true to form. He carried over this febrile mood of sustained inspiration into the Andante, uniting its tonal world with other 20th-century concertos such as Berg's and Bartók's, and making perfect sense of Elgar as, if not a modernist, then a master entirely of his time.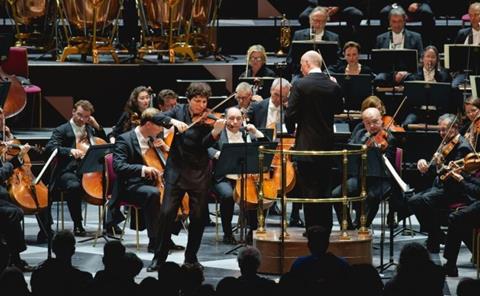 Perhaps the most cultivated violin sound of the season was saved for last, with Augustin Hadelich's playing of the Tchaikovsky Violin Concerto (30 August). Paavo Järvi, conducting the Zurich Tonhalle, had any number of neat tricks up his sleeve – a Russian folk-like flick of the rhythm here, an unwritten Mannheim-style diminuendo–crescendo there – but it was Hadelich's more straightforward musicianship and burnished central European tone which turned up something new and delightful in one phrase after another, building tension through the first movement not with raw pace, but a long-term harmonic argument towards a cadenza that, for once, stunned the noisy Proms audience into silent rapture. Even Hadelich could not prevent the finale from going around in circles, but he pulled out the best encore of the season with his own arrangement of an Appalachian tune, played like a bluegrass reincarnation of Hubay. Astonishing.
PETER QUANTRILL