The violinist shares his appreciation for the late monarch's support at numerous performances throughout his career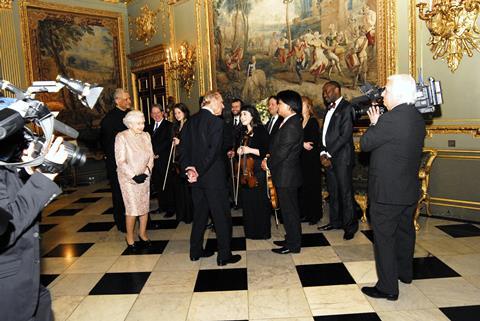 Read more news articles here
Commonwealth Orchestras and Choirs is the first and only, full-time music organisation in the world, which works exclusively across six continents and throughout all 56 Commonwealth Nations. With Her Late Majesty Queen Elizabeth II as its Diamond Jubilee Patron 2012, it continues to work tirelessly to deliver a mission of 'using music as a means of international dialogue, knowing no boundaries', and creating opportunities for engaged diversity in action. Here, concertmaster Eric Wang shares his memories of Her Late Majesty.
I have been the concertmaster for the Commonwealth Orchestras since 2011. During that time I have been immensely privileged to have performed both as a soloist and as concertmaster with the Commonwealth Orchestras and Choirs at a great many performances attended by Her Late Majesty Queen Elizabeth II.
In 2012, the year of the Diamond Jubilee of Her Late Majesty, I performed on numerous occasions for private performances for The Queen at venues including Windsor Castle, the House of Lords, Mansion House, and Marlborough House, to name just a few.
In 2013, I performed a movement from Paul Carroll's Violin Concerto no.2 in the ballroom at Buckingham Palace for an invited audience of 350 guests hosted by The Queen and The Duke of Edinburgh. After every performance I was presented to Her Majesty and she was most gracious and well informed about the music we had just performed. In 2017, I had the privilege to perform with members of the Commonwealth Youth Orchestra and Children's Choir for 'The Queen's Christmas Message', which was recorded in the Guildhall's East Crypt. This was a most extraordinary and exceptional honour.
In 2022, I was invited to record and give the world-premiere of a major new work, composed by Simon Haw called The Green Canopy, for The Queen's Platinum Jubilee. Her Late Majesty was extremely appreciative of the recording and it was my huge honour to have had this recording presented to The Queen at Balmoral Castle in July 2022.
Reflecting on all these performances for The Queen, I feel immense pride and gratitude for the wonderful opportunities I have had in the presences of this amazing monarch. The grace and appreciation which Her Late Majesty showed us musicians will stay with me for ever.
Eric Hui-Ti Wang
Solo Violin and concertmaster, Commonwealth Orchestras