The British violinist performed twice for Her Majesty, and received her OBE from the Queen in 2012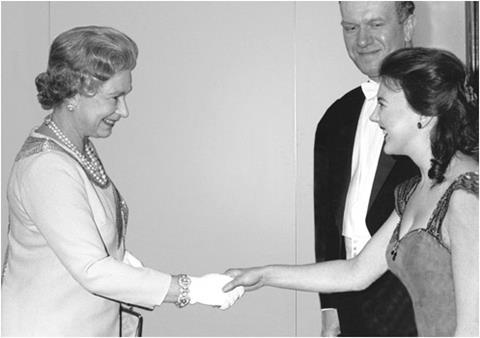 Like many people, I am still in a state of shock that The Queen has passed away. It's not that I believed she would be with us for ever, but I would have liked her to have been, as she provided a sense of continuity and reassurance for so many of us.
It was comforting to have her presence in turbulent times, as well as her words at Christmas, summing up the year, acknowledging challenges and paying tribute to members of the public who had done great deeds.
I was lucky enough to perform twice for her, and I also met her on two occasions.
The first time was in 1990 at the 150th anniversary of the Royal Liverpool Philharmonic Society, when I performed the Bruch Violin Concerto with the RLPO and Vernon (Tod) Handley in the gorgeous acoustic of the Philharmonic Hall, Liverpool. There was tremendous excitement surrounding her arrival – my usual dressing room had been converted into a private antechamber for her, but no one minded things being different backstage – we were all just so happy she was coming to visit!
It was in the early years of my career and I was pretty nervous walking on stage – I didn't dare look at the Royal box as I took my first bow, but then I settled in to the performance and enjoyed it hugely. Afterwards, I lined up alongside fellow musicians to meet her and she was just wonderful. I remember being quite surprised that she was absolutely tiny! In my mind, I assumed she would be extremely tall. The other thing that took me by surprise was her amazing smile – it was totally magnetic and lit up her face completely. She said how much she had enjoyed my performance and we exchanged a few more words before she moved on to speak to the other musicians. Later on, she came back to speak to me once more which thrilled me to bits.
One of the things that made me smile was when she modestly commented on hearing the work 'I Was Glad' by Parry, which had been performed during the concert. I remember her words exactly: 'The last time One heard the Parry was at One's Coronation – it gave One quite a turn'!
I played for her again in July 2005 at the Festival of Commemoration to mark the 60th anniversary of the end of World War II. It was a very moving occasion with words and music reflecting the events of that era, and I played the theme from Schindler's List. The whole of the Royal Family were present and approximately 11,000 veterans were all seated outside in the sunshine in Horse Guards Parade, alongside a nationwide broadcast and huge screens around London transmitting the performances. I didn't meet The Queen on that occasion, but I did have tea with Dame Vera Lynn who was totally charming! It was an unforgettable occasion and reminds me how important it is to keep paying tribute to those who have given their lives for their country.
The final time I saw the Queen in person was in 2012, when I received my Order of the British Empire at Buckingham Palace. The Palace doesn't tell you in advance who will be presenting your award and you only find out once you have gone through security and your mobile phone has been removed from you, for security purposes! I was truly delighted to know that Her Majesty was going to be performing the deed and lined up to take my place. Once again, I was struck by her kindness and genuine interest – we spoke about the occasion when we met in Liverpool as well as the Horse Guards Parade event and she congratulated me on my honour.
Alongside the sadness that I feel that she is no longer with us, I feel immense gratitude that she was able to serve for so many years. I will always treasure the memories of meeting her and playing for her.
Thinking of all those who are mourning her loss, and my thoughts are especially with her family at this time. May she rest in peace.
Tasmin Little OBE 9 September 2022