The sale of the violin heard on the soundtrack to The Wizard of Oz constitutes the second-highest amount ever paid for a Stradivari violin at auction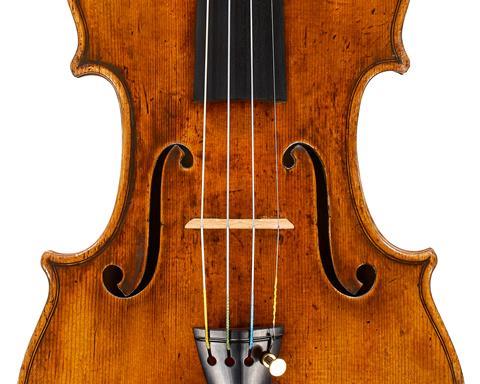 Tarisio has announced the sale of the 1714 'da Vinci, ex-Seidel' Stradivari violin at auction for US $15.34m (£12.29m). With the reserve set at $8m, the auction, held on 9 June 2022, concluded after a dynamic and competitive bidding process. The final price of the violin constitutes the second-highest amount ever paid for a Stradivari violin at auction, following the 2011 record-breaking sale – also by Tarisio – of the 'Lady Blunt' Stradivari violin for USD $15.9m.
Crafted in Italy in 1714, by Antonio Stradivari, the 'da Vinci, ex-Seidel' is among the rare examples of craftsmanship from the maestro's 'Golden Period.' It has been 15 years since a violin representing the Golden Period has been offered at auction. The violin is concert-ready, retaining its original parts and remains in pristine condition.
The 'da Vinci' was the concert companion of the celebrated Russian-American virtuoso Toscha Seidel for nearly forty years. Seidel was a protégé of Leopold Auer, a classmate of Jascha Heifetz, and is widely considered one of the great violinists of the 20th century. On 27 April 1924, Seidel bought the violin for $25,000, the story of which made front-page headlines in the New York Times. He said of his prized acquisition '…we precisely suit each other, and I am convinced it is one of the finest examples of the famous violin maker'.
Seidel owned the violin for nearly four decades, during which he performed with major orchestras, made numerous orchestral recordings, hosted a popular radio programme and served as CBS Network's musical director. He also recorded several early Hollywood film scores with this violin, including The Wizard of Oz, Intermezzo, and Melody for Three, among others. Seidel befriended Albert Einstein, becoming his violin mentor and performing with Einstein in a benefit concert in New York in 1933, to aid German-Jewish scientists fleeing Nazi Germany. Later, the violin was part of several important 19th century collections and ultimately was acquired by a Japanese collector.
'All of us at Tarisio are deeply honoured to be a part of the great history of the 'da Vinci, ex-Seidel' violin through today's auction and to extend the musical legacy of this incomparable instrument – crafted by Antonio Stradivari, the greatest violin maker of all time,' said Carlos Tome, director at Tarisio. 'The voice of this violin has pleased audiences for more than 300 years, and we hope it will continue to do so for another 300 years and beyond.'