The inlaid instrument will go under the hammer at Christie's London on 7 July 2022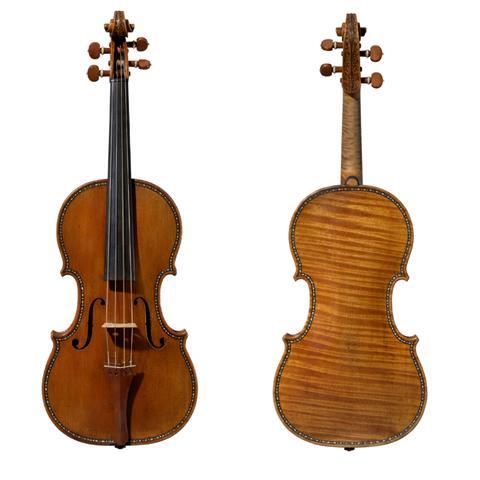 One of the only inlaid instruments ever made by Antonio Stradivari, the c.1679 'Hellier' violin is to be sold at Christie's auction house in London on 7 July. From 6 to 15 June the instrument will be on display at Christie's exhibition 'The Art of Literature: Auction Highlights', and from 2 to 7 July it will be on view at the pre-sale exhibition.
Made during Stradivari's 'Amatisé' period, the 'Hellier' is among only a dozen of his violins to feature inlaid decoration. Ornately florid silhouettes of flowers and vines are etched into the wood of the ribs and pegbox, filled in with an ebony mastic. Between the two rows of purfling are a procession of ivory circles alternating with delicately engraved ivory diamonds. The designs were first drawn on paper before being transposed to the wood, and Stradivari's original drawings for the inlay are still kept at Cremona's Museo del Violino.
Stradivari kept the 'Hellier' at his workshop for 55 years before selling it in 1734 to Sir Samuel Hellier of Wombourne, England, for £40. The violin remained in Hellier's family until about 1880, when it was sold by Colonel Shaw Hellier. Subsequent owners have included newspaper tycoon Henry E. Morris, American collector Henry Hottinger, London doctor Charles Oldham and Tom Roberts, an American collector who loaned the violin to the Smithsonian Institution.
The 'Hellier' was featured as one of The Strad's posters in September 1987. In the accompanying article, instrument expert Roger Hargrave stated: 'The inlaid work on the head and ribs is of staggering fluidity. The intensity of the blacks is perfectly counterbalanced by the finely spun quality of the lines. The "Hellier" is probably the most delicately inlaid of the violins which I have seen and, judging from photographs, possibly the most delicate of all. The head in particular is finished with a lightness of touch which almost defies the imagination. It would be fruitless for me to describe the inlaid work in more detail the photographs speak for themselves.'
With a back length of 358mm and a red-orange varnish over a golden ground, the 'Hellier' has a price estimate of £6m-£9m. The record for a Stradivari violin remains the 1721 'Lady Blunt', which was sold by Tarisio for £9.8m in 2011.
Photos: Christie's Images Ltd 2022