The Strad's 2021 Calendar celebrates the work of Dextra Musica, the Norwegian foundation that has built up a fine collection of historical and contemporary instruments over the past 15 years. All the instruments are in daily use, being loaned out both to top soloists and to up-and-coming young players. Some of the treasures include Stradivari's golden-period 'Rivaz, Baron Gutmann' violin, now played by Eldbjørg Hemsing, the 1744 Guarneri 'del Gesù' used by Henning Kraggerud, and the 1783 Guadagnini cello once owned by Rostropovich, which was sold for a record £1.93 million in 2018.
Carlo Bergonzi 'Kreisler' violin c.1735
The Dextra Musica collection is home to an extraordinary number of masterpieces of violin making, and the c.1735 'Kreisler' is a matchless example of Carlo Bergonzi's work. Bergonzi was the last of the classical Cremonese luthiers and the successor to the workshop of Stradivari, entrusted by Antonio's family with the task of finishing the last remaining stock of instruments. Like the 'Arditi' Stradivari, this particular violin can be traced back to the collection of Count Cozio di Salabue, and appears to be listed in 1841 as one of two Bergonzi violins attributed to 1733. However it presently has a label of Stradivari, with alterations made recognisably in Cozio's hand. It was acquired by William Ebsworth Hill (the founder of W.E. Hill & Sons) from an Italian nobleman in 1875, and sold to the prodigious collector Baron Knoop of Bremen and London. Since then it has passed through the hands of the most eminent players of two separate generations; Fritz Kreisler, after whom it is named, and Itzhak Perlman. Dextra Musica obtained it in 2006 from the celebrated collector David L. Fulton.
It is one of only two Bergonzis that still retain the original neck, and the condition throughout is one of exceptionally fresh preservation. The characteristically thin yet intensely coloured varnish is in abundance, undisturbed by polish or retouching. Stylstically it is a fascinating fusion of influences from Guarneri 'del Gesù', Stradivari and intriguingly, Vincenzo Rugeri, all of whom were his contemporaries in Cremona. The flattened arching is very Guarnerian, and the design, although completely his own, shows a strong Stradivari influence in the balance of the bouts and the form of the corners. The scroll model is also distinctly his own, but has strong elements of Rugeri in the balance and finish of detail.
Order your copy of The Strad Calendar 2021 today!
Photos: Richard Valencia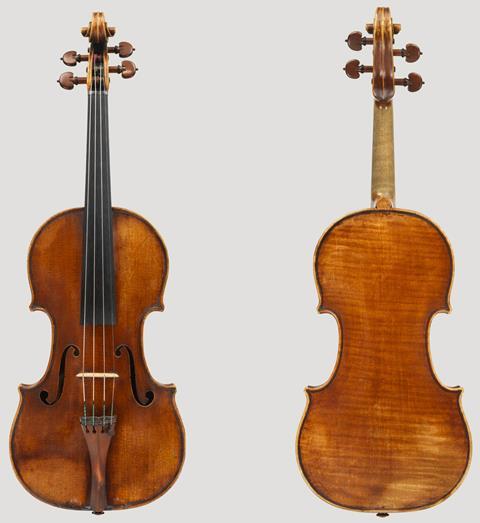 Carlo Bergonzi 1735 'Baron Knoop' violin: The Heir Apparent
1

2

3

Currently reading

The Strad Calendar 2021: Carlo Bergonzi 'Kreisler' violin 1735

4

5

6

7

8