Dario Sarlo reveals a lesser-known passion of the great violinist, and how it led him to start his own lutherie competition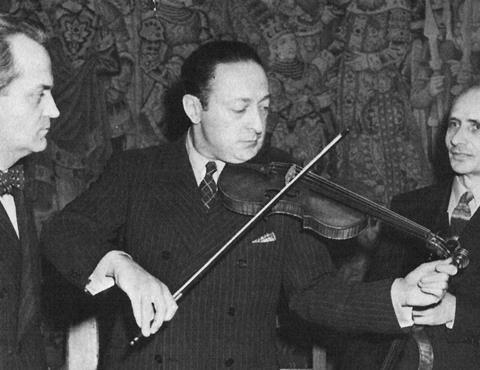 On 5 March 1940, Jascha Heifetz announced a year-long competition to find the best violins being made in the United States at the time. In conjunction with Wurlitzer's in New York, Heifetz sought to prove that 'entirely satisfactory playing could be achieved on a violin made in this country'. Heifetz's profile as a star violinist garnered national attention for his competition, and the violinist gave numerous interviews, during which he spoke passionately about the potential for American-made violins.
The tense political realities of that era, and a growing sense of nationalism, ensured a healthy public appetite for anything 'Made in America'. A poem published in a New York newspaper at this time joined together the themes of nationalism, violin making, and mass production:
Give a cheer for the American fiddle –
The finest that money can buy;
It's good at both ends and the middle:
It's American-made – that's why.
With the call for all-out production,
Our makers of fiddles will need
No warning to cut out obstruction
And catgut assemblies to speed.
Let saboteurs scheme on the q.t.
To see US fiddles go bust –
All hands will take care – as a duty –
That our fiddles are fiddles to trust
This country, in violin making,
Can set a pace no land can match;
Whatever defence part they're taking –
Our violins won't start from scratch.
By the spring of 1941, more than a hundred violins from 35 cities had been submitted for consideration in the competition. To examine the instruments, Heifetz gathered together a panel in New York, which included a violin expert from Wurlitzer's named Jay C. Freeman, and also the concert violinist Sascha Jacobsen. Despite the fact that twelve violins were ruled out for 'amateurish craftsmanship', the panel selected an impressive final group of seven. The criteria for the assessment were simple: the instruments were judged for tonal quality, workmanship and accuracy of measurement.
Heifetz was pleased with the overall standard of the violins. 'I wanted to prove that it is not necessary for a young violinist to own a Stradivarius or Guarnerius to play well.'
'These instruments', he told a reporter, 'all of which are typical examples of handiwork and not specially built, prove my point. American violins speak for themselves.' Taking third place in the competition was a violin by a Mr Rosenthal of New York; in second place, an example by M.F. Phillips of Pittsburgh.
The winning violin was a copy of a 1747 Guadagnini by Michael Yurkevitch, a violin maker who worked from a studio next door to Carnegie Hall. Yurkevitch was a naturalised Russian who arrived in 1928, and he had honed his craft 'under the masters of Europe'. After escaping the Russian Revolution, Yurkevitch had studied in the German town of Markneukirchen, and later, in Berlin, he developed his own secret varnish, 'with the feeling of the eye and of the fingertips'.
Yurkevitch explained to the press that because of the small demand for fine new violins in New York, he usually spent most of his time repairing old instruments. It is amusing to read that Yurkevitch was actually Heifetz's go-to repair man. Conflict of interest? None of the half-dozen newspaper reporters thought so!
This article was first published in November 2013. Dario Sarlo is co-editor of Jascha Heifetz – Early Years in Russia, published by Indiana University Press.