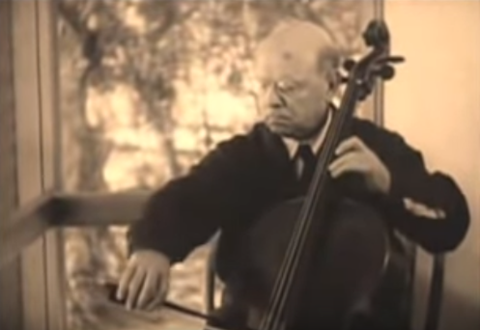 Pablo Casals performs The Song of the Birds ('El cant dels ocells'), a traditional Catalan carol.
Casals made the song famous with his version for cello, which he would play as an encore. He performed it on 24 October 1971 at the General Assembly of the United Nations when he received the UN Peace Medal. He was 94. Before he began playing he said:
'I have not played the cello in public for many years, but I feel that the time has come to play again. I am going to play a melody from Catalan folklore: El cant dels ocells - The Song of the Birds. Birds sing when they are in the sky, they sing: "Peace, Peace, Peace", and it is a melody that Bach, Beethoven and all the greats would have admired and loved. What is more, it is born in the soul of my people, Catalonia.'
In the article 'Pablo Casals: Boundless Expression' published in The Strad March 2020 issue, Oskar Falta explores the Catalonian cellist's main vibrato theories, as passed down through the methods of his colleague Diran Alexanian and favourite student Maurice Eisenberg.