In this extract from an article exploring the great composer and conductor's string legacy, Tully Potter takes a close look at the creation of his violin concerto in all but name, the Serenade after Plato's Symposium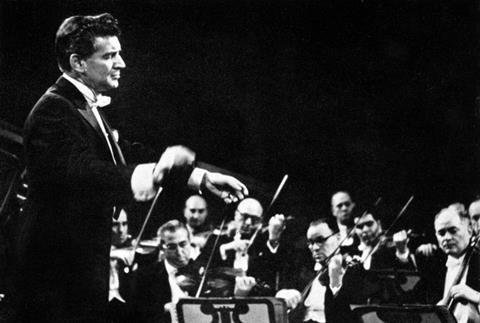 The following is an extract of a longer article in The Strad's July 2018 issue. To read further, download now on desktop computer or via the The Strad App, or buy the print edition
In 1953–4, Bernstein wrote his masterpiece for the violin, the Serenade, inspired by his reading of Plato's Socratic dialogue Symposium. According to Isaac Stern, who worked on it with him, a different soloist was originally intended (Hillyer?), but Stern became its embodiment.
Listeners can be unnecessarily put off by Bernstein's headings and it is best to look at it as a piece of abstract music for solo violin, percussion, harp and strings consisting of five movements in arch form, with a brief scherzo at the centre – the final two movements are longer than the first two. The weight of string writing at the start of the fifth movement, 'Socrates: Alcibiades', is awesome but after the entrance of the drunken Alcibiades and his friends the music becomes jazzy and the ending is brilliant.
Violinists talk of the solo part's difficulties. In his memoirs, Stern writes: 'Lenny would send me parts of the Serenade. I had a slight problem with him, because at times he composed in key signatures that were completely correct musically but difficult for string players, who tend to think enharmonically in fingering quick passages.'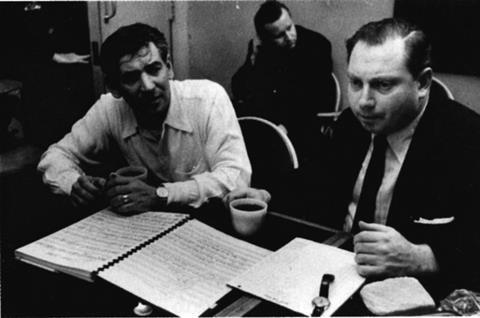 Dicterow, New York Philharmonic concertmaster from 1980 to 2012, played the Serenade eight times with Bernstein; their beautiful Ohio performance (August 1986) is currently available as a download. Dicterow told me, 'During my time performing the solo part of the Serenade on a concert tour in 1986, Bernstein revealed to me that he thought this was the best piece he had ever written, which is saying a lot.
'I don't really think Lenny, as a pianist, knew how to write for the violin efficiently and as a result the Serenade is actually extremely awkward to play. He wrote double-stops with substantial register leaps throughout this composition and it is difficult to make them sound seamless. Nevertheless, I am grateful to have this piece in my repertoire and have performed it many times with orchestras all over the world.'
Amusingly, Bernstein thought Dicterow's interpretation was too romantic, and it is true that their live performance is slower in every movement (except the scherzo) than the classic 1956 recording with Stern. He told Dicterow, 'It's neo-Classical – think Stravinsky' – but Plato's Symposium is about love; the solo violin is given many ineffably lyrical passages; and Bernstein's biographer Humphrey Burton is dead right in asserting: 'What Bernstein surely meant us to understand was that his Serenade embodied all his loving feelings toward all his fellow human beings.'
The proof of the work's endurance is that today every top violinist plays it.
To see the full article, download The Strad's July 2018 issue on desktop computer or via the The Strad App, or buy the print edition
Read: 'Just think of love': Vadim Gluzman on Leonard Bernstein's Serenade after Plato's 'Symposium'