A major Bernstein discovery in a compelling performance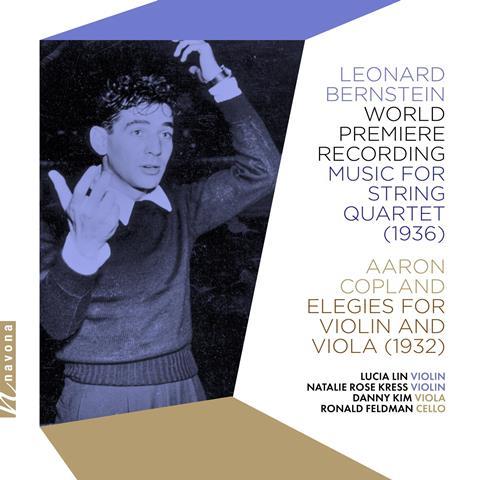 The Strad Issue: December 2023
Description: A major Bernstein discovery in a compelling performance
Musicians: Lucia Lin, Natalie Rose Kress (violins) Danny Kim (viola) Ronald Feldman (cello)
Works: Bernstein: Music for String Quartet. Copland: Elegies
Catalogue number: NAVONA RECORDS NV6557
A world-premiere recording of a recently rediscovered Bernstein string quartet will naturally provoke a lot of attention – and in this wonderfully propulsive account of the composer's Music for String Quartet it more than fulfils expectation.
A bit of background: Bernstein composed the piece while an 18-year-old Harvard student in 1936, asking the New England Quartet to try it out two years later. New England violinist Stanley Benson hung on to the handwritten score, which was carefully stored away by his wife and later passed on to Boston Symphony Orchestra librarian John Perkel, who arranged for its live premiere in 2001 and first recording. It was the same four musicians behind both occasions, and it shows: this is an assured, perceptive and thoroughly persuasive account of music that's far more than simply a student curiosity or something for Bernstein completists. The composer's trademark blending of jazzy, bluesy rhythms and harmonies with more dissonant modernism are already present and correct, but it also bristles with confidence in the outspoken drive of its longer first movement and the darker, more introspective passions of its second.
With faultless ensemble, the players tackle Bernstein's proto-minimalist figurations with determination and a certain deliberateness, slipping into softer-edged playing for his sweeter second subject, and maintaining a compelling intensity throughout the inexorable tread of the second movement. The music breaks off inconclusively, as if tantalisingly incomplete – as does the restrained, sometimes austere Elegies for violin and viola by Copland, given a beautifully shaped reading here. Though brief, it's a beguiling pairing of fascinating works, captured in close, warm sound.
DAVID KETTLE