Plenty of character informs this unusual programme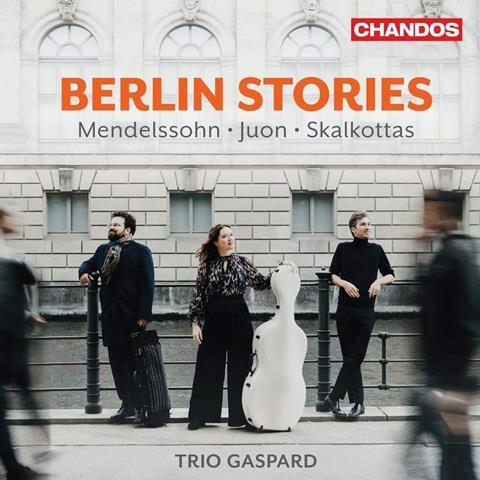 The Strad Issue: July 2023
Description: Plenty of character informs this unusual programme
Musicians: Trio Gaspard
Works: Juon: Litaniae op.70. Mendelssohn: Piano Trio no.2 in C minor. Skalkottas: Eight Variations on a Greek Folk Theme
Catalogue number: CHANDOS 20271
Berlin Stories
All three members of Trio Gaspard have either lived, or currently live, in Berlin, and that city is the first focus in a series exploring music linked to different cultural capitals.
The playing in Mendelssohn's Piano Trio no.2 is of quicksilver clarity but the musicians are equally alive to its stormy turbulence. The outer movements are lively and impassioned, a quality well captured in the recording, which avoids saturation. To my ears, violinist Jonian Ilias Kadesha sounds just a touch in the shadows.
Paul Juon (1872–1940) was Moscow-born but of Swiss parentage and came to Berlin to study (at the suggestion of Joachim, a friend of Mendelssohn) at the city's Hochschule. His 15-minute Litaniae, written at the end of World War I, is nothing less than a tone-poem. Trio Gaspard highlights its surging, epic qualities and is fully committed to the piece's almost unabating intensity. There are rare moments of light (if not levity), such as a chorale passage for violin and cello, accompanied by spare, bell-like piano octaves. It's an intriguing piece – unique in the repertoire maybe – but not a comfortable listen.
Chiming with Kadesha's Greek roots is the Eight Variations on a Greek Folk Theme by Nikos Skalkottas (1904–49), who studied in Berlin. Its clean dissonance comes as a welcome foil to Juon's thick chromaticism, and its playful moments are well pointed in this performance.
EDWARD BHESANIA