There's much to applaud in this new exploration of the piano trios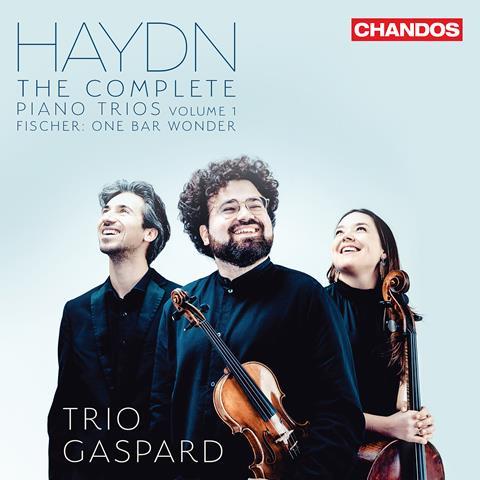 THE STRAD RECOMMENDS
The Strad Issue: August 2022
Description: There's much to applaud in this new exploration of the piano trios
Musicians: Gaspard Trio
Works: Haydn: Piano Trios vol.1: no.20 HobXV:7, no.23, HobXV:10, no.32, HobXV:18, no.38, HobXV:24, no.40, HobXV:26. Fischer: one bar wonder (HobXV:7 remixed)
Catalogue number: CHANDOS CHAN20244
The launch of a new series of Haydn piano trios is always reason to be cheerful. The Gaspard Trio starts at the end, with three trios from the mid-1790s, along with a pair from a decade earlier, closing its programme with a 'precise and relentless' response to a phrase from HobXV:7 by Johannes Julius Fischer (born 1981) that will either amuse or annoy, depending on your disposition.
It's all too easy to dismiss Haydn's trios as keyboard works with string parts doubling the right and left hands to the extent that they are all but dispensable. That's to miss the point of this infectiously spirited and inexhaustibly inventive music. A recorded balance (at Potton Hall in Suffolk) that catches the glint off the violin and cello but smooths off the attack of the piano serves to demonstrate how much the reverse is true: this is music conceived for strings, which just happen to be doubled by the piano.
This series is clearly a cherished one for the German–British Gaspard Trio and the delight the players take in Haydn's audacious music is audible, especially at moments such as the gawky finale of HobXV:18 in A major or the faster music of the two earlier works, clearly composed to entertain. So, too, is their sensitivity to passages such as the F sharp major Adagio of HobXV:26, the one that Haydn recast a semitone lower as the corresponding movement of his Symphony no.102; equally, the way the violin and cello dig into the strings as the sweetness drains from the closing Allegro, ma dolce of HobXV:24. It's truly a delight, and leaves this listener hungry for more.
DAVID THREASHER