Persuasive premiere recordings of a 20th-century luminary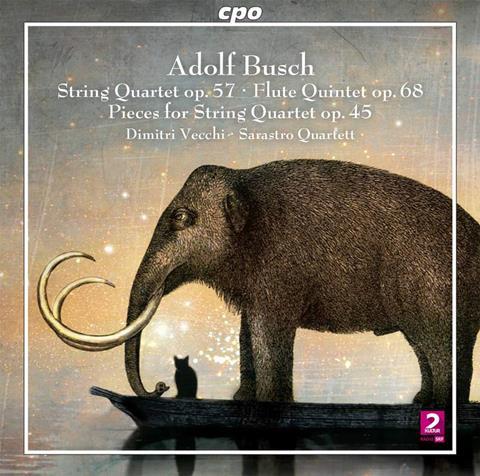 THE STRAD RECOMMENDS
The Strad Issue: March 2023
Description: Persuasive premiere recordings of a 20th-century luminary
Musicians: Sarastro Quartet, Dimitri Vecchi (flute)
Works: Busch: Nine Pieces for string quartet op.45; String Quartet in A minor op.57; Flute Quintet in C major op.68
Catalogue number: CPO 555 279-2
CPO's second disc of music by Adolf Busch (1891–1952) includes two premiere recordings and the first studio recording of his chamber music masterpiece, the Flute Quintet. Busch's exemplar from his teens was Max Reger but he had a more concise compositional style.
The Nine Pieces (1931, revised 1936) have commedia dell'arte elements, by turns: lyrical; gentle and lilting; more forceful and characterful; singing and romantic; very dramatic; song-like; wistful; Puckish and Harlequin-like; concluding with an operatic denouement, everyone chattering away in a compelling display of Busch's contrapuntal mastery.
The A minor Quartet (1942, dedicated to Rosalie Leventritt) is edited by the Sarastro Quartet's Lehel Donath: its first movement pits fast and vigorous music against more lyrical writing; the second alternates a beautiful, barcarolle-like theme with a Vivace assai; and the third is very vigorous, with delightful polyphony.
The mellow Flute Quintet (1950) uses two violas and finds Busch finally free of the influence of Brahms and Reger: in the opening movement he reverses the usual scheme, with a gentle first theme and faster second; this is followed by a lovely Adagio; a Scherzo with a flowing twice-repeated Trio; while the finale weaves a diverting web of polyphony.
The performances by these Winterthur-based musicians are molto simpatico and well engineered, showing the creative side of a great violinist in the best possible light.
TULLY POTTER