The great string players of the past embodied the 'singing' style that signifies their relationship with vocalists of the time. Why can't today's stars capture the same atmosphere, asks Tully Potter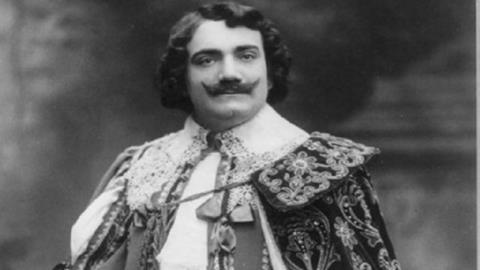 Every two weeks I and like-minded souls foregather in London to hear a programme of vocal discs, drawn from the legacy of recordings reaching back more than a century.
We range from those with considerable musical expertise to those who simply like to hear good singing, and from those nurtured on historic discs to those who prefer today's artists.
When it is my turn to present a programme to this venerable gathering – The Recorded Vocal Art Society (RVAS), founded in 1953 – I may well infiltrate a record with a string obbligato.
What does singing have to do with string playing? Everything. It was the human voice, specifically the tenor tones of Enrico Caruso (pictured), that first got me seriously involved in music, around the time the RVAS was being founded.
My interest in string playing came almost a decade later, through the viola, and one attraction was the similarity of players such as William Primrose and Rudolf Barshai to great singers – their beautiful legato and range of tonal shadings, the way they carried their phrases on the breath. Later I came to appreciate the parlando bowing of artists such as Fritz Kreisler, Pablo Casals and Adolf Busch, and the manner in which they seemed to form words with their legato phrases.
Nowadays, if I go to a concert involving string players, I am bound to see other string players in the audience – often the same people each time, as many of today's artists seem too busy to go to hear their colleagues. Yet I rarely see any of them at the opera, or at choral concerts, unless they are playing in the orchestra. Is it just coincidence that we are enjoying a superb generation of string players right now, but none who induce that 'vocal' feeling in me? Yes, they all play with excellent technique, and fine tone as far as it goes, yet many of them could be interchanged without affecting the quality of the performance.
If you have never listened to the records the Irish tenor John McCormack made with Fritz Kreisler, you have missed something special. It is clear that these great artists enjoyed making music together – on one occasion, when they were trying things out at the McCormack home, the tenor turned to his wife and said delightedly: 'I made a sound just like Fritz.'
On records by Kreisler, Busch or Jacques Thibaud you will hear many vocal effects: not just the parlando, but the messa di voce, in which the volume is gradually increased and then diminished, the mezza voce, or half-voice, and the sotto voce, a vocal kind of pianissimo – Beethoven sometimes calls for it but his pleas often go unheard. Many of our period instrument players like to think their Baroque bows give a messa di voce effect but it is often so automatic it can drive you mad if your ears latch on to it.
I have dreamed of living in other musical eras, but I always realise how many things are better today. People use better editions and quartet playing is uncannily accurate in ensemble. What I miss is the feeling that I am hearing well-rounded personalities, whose lives do not begin and end with their own careers. I realise players of the old school did not have to cope with such a wide, deep repertoire, and we have acquired a century of new music, plus centuries of rediscovered old music. Players of today have a lot to cope with.
Yet surely a little lateral thinking would not come amiss? If you really love music, do not relax gratefully when you have a day off, but challenge yourself with something different, on the basis that a change is even better than a rest. Try to hear the great singers of the past – Caruso, Lucrezia Bori, Giuseppe De Luca, Tito Schipa, Friedrich Schorr, Frida Leider et al. You might find something amazingly applicable to your own playing.
Read: Singing during practice can help improve sound and characterisation, says cellist Laurence Lesser