Cellist lends Strauss Sonata and song transcriptions an almost operatic voice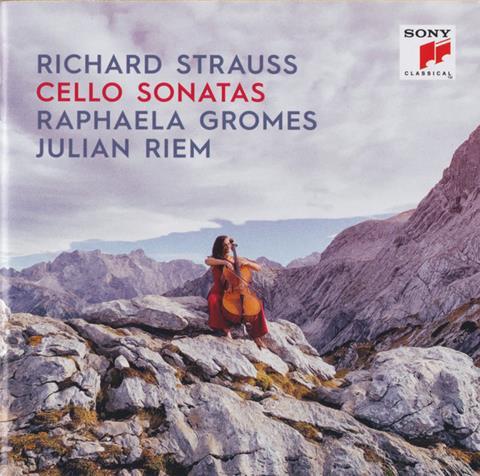 The Strad Issue: July 2020
Description: Cellist lends Strauss Sonata and song transcriptions an almost operatic voice
Musicians: Raphaela Gromes (cello) Julian Riem (piano)
Works: Strauss: Cello Sonata in F major – first version (1881); second final version (1883); Zueignung; Die Nacht; Du meines Herzens Krönelein; Ach Lieb, ich muss nun scheiden; Cäcilie; Morgen!; Der Rosenkavalier Waltz Suite (arr. Julian Riem)
Catalogue Number: SONY 19439718832
The first version of Richard Strauss's F major Cello Sonata was written for a competition hosted by the prestigious journal Neue Zeitschrift für Musik and on the evidence of the first movement, I was surprised it didn't win. From the opening notes, it boasts the same striking ideas as the later version, and similar harmonies. In short, the freshness, joie de vivre and energy are captivating. However, the second and third movements, although pleasant enough, are much weaker than in the final version. What they miss are his characteristically distinctive soaring melodies and harmonic twists. The second version, written two years later, retains and develops the original first movement (he knew when an idea was good) but eschews these weaker movements and replaces them with the brooding and intense Andante and the joyous Finale.
Raphaela Gromes is impressively eloquent on her 1885 Vuillaume cello in both versions, allowing the higher registers to really sing, almost operatically. She is instinctively partnered by Julian Riem, who also arranged the very brilliant Rosenkavalier Waltz Suite. This dances along with fin de siècle grace and the fingerprint sky-high melodic leaps.
As Strauss was renowned not only as an opera composer but equally for Lieder, it is fitting that this warmly recorded disc also features some of his most melodious contributions to the genre. Naturally the near-vocal qualities of the cello suit this music admirably, in particular bringing new depth to Zueignung and Morgen!
JOANNE TALBOT