Eloquent playing, blurring the boundary between major and minor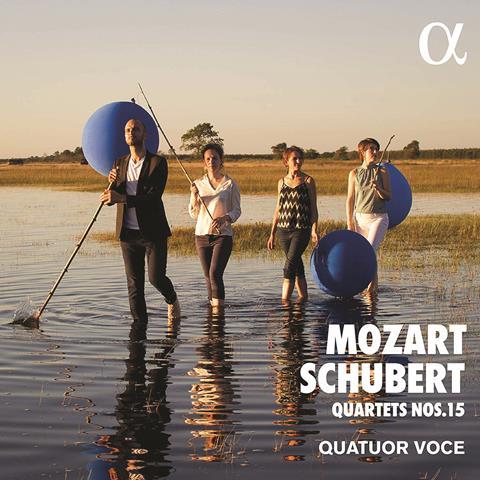 THE STRAD RECOMMENDS
The Strad Issue: December 2019
Description: Eloquent playing, blurring the boundary between major and minor
Musicians: Quatuor Voce
Works: MOZART String Quartet no.15 in D minor K421 SCHUBERT String Quartet no.15 in G D887
Catalogue Number: ALPHA CLASSICS ALPHA 559
Remarkably, both Mozart and Schubert were only 27 years old when writing their respective 15th quartets, yet had by then achieved creative maturity, comfortably surpassing any of their contemporaries – save for Haydn and Beethoven. Both were masters of their craft, adapting established techniques and formal procedures with a visionary intensity which (especially considering their historical context) still has the power to shock.
This could well act as a musical metaphor for the Quatuor Voce, whose cantabile eloquence and tantalising espressivo restraint can be traced back at least as far as the classic Italian Quartet of the 1960s. Yet underlying the beguiling naturalness of their phrasing, and without resorting to HIP (historically informed practice) shock tactics, microcosmic inflections of internal balancing, articulation, dynamic and tonal colour combine to create a deeply compelling sense of emotional narrative.
Given its interpretative trajectory, the Quatuor Voce's exquisitely deft handling of Mozart's minor-key cries de coeur, which semantically reverse established procedures by having the major mode cloud the music's emotional essence, comes as no surprise. However, the Quartet really comes into its own in the Schubert, in which the distinction between major and minor becomes so elusively obfuscated that at times it is hard to keep pace with the composer's sleight-of-hand transitioning.
To hear the Voce players tracing the music's high-speed expressive interchanges with such acute sensitivity, captured in thrillingly tactile, lifelike sound, has been one of the highlights of my listening year.
JULIAN HAYLOCK