Robin Stowell reviews Anne M. Hyland's musicological analysis of the composer's 15 quartets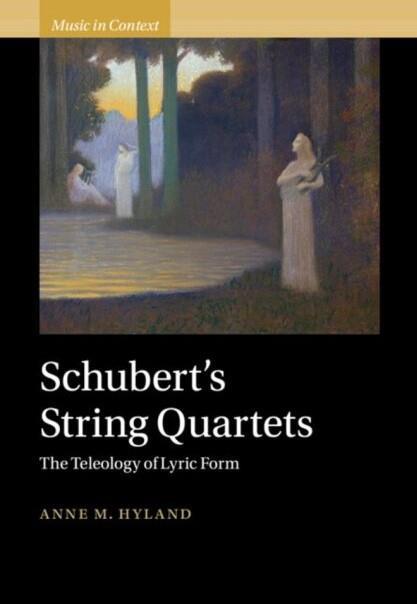 Schubert's String Quartets: The Teleology of Lyric Form
Anne M. Hyland
328PP ISBN 9781009210928
Cambridge University Press £85
Anne Hyland's monograph is an offshoot of her doctoral research and some of her subsequent journal articles, appropriately reworked to reflect its principal theme of lyric form. Based on Schubert's corpus of string quartets and focusing especially on his eleven early works (1810–16), which have been marginalised by their posthumous dissemination and his later achievements in the genre, it challenges the view that Schubert was unable successfully to incorporate the lyric style into his sonata-form structures. It also proposes a new approach to lyric form that embraces historical musicology, idealist philosophy, literary criticism and music theory and analysis. Hyland's eventual historicist slant to her investigation demonstrates how the novel practices of early 19th-century Vienna-based composers – Joseph Mayseder is her principal exemplar – impacted on Schubert's formal and harmonic schemes.
Hyland's introduction paves the way for five chapters, which are arranged into two discrete, thematically oriented parts. Part One ('Contexts'), comprising two chapters with numerous subdivisions, sets the musical, contextual and social scenario. It contends that Schubert's lyricism extends to aspects of form and articulates the multifaceted dialectical condition of 'lyric teleology', and that this condition and many of his other characteristic formal innovations are particularly well represented in his early chamber music for strings. Each of the three chapters of Part Two ('Analysis') comprises analytical case studies, which focus on Schubert's 'employment of lyrical elements developmentally via identifiable and universally acknowledged techniques such as tertiary and symmetrical tonal structures, harmonically evasive or mobile theme groups, formal elisions, functional ambiguities and parametric dislocations'. Chapter 3 examines how Schubert manipulates the parameters of closure at significant cadential junctures in his sonata structures to create progressive forms. Founded on Adornian concepts, Chapter 4 explores the idea that lyric juxtaposition is fundamentally dialectical in creating a critical tension that presses towards a synthesis distinct from tonal resolution. The final chapter, concerned with 'undirectionality', brings the sonata–variation amalgam of the movements analysed into dialogue with form–functional theory and examines how Schubert 'mediates between lyricism and development in the service of a new kind of lyric teleology which enables both temporal novelty and a distinctly processual approach to form'. An epilogue offers a summary of the whole, contemplates the influence of Schubert's instrumental lyricism on later 19th-century composers and suggests areas for future investigation.
Largely error-free, the book is amply furnished with illustrative figures, tables and music examples. It also incorporates all the appropriate scholarly trimmings, including copious footnotes, an appendix offering a comprehensive listing of Schubert's string quartets (including details of sources, status, dating, publication and numbering), a well-stocked bibliography and an extensive index. Many performers will balk at engaging with Hyland's somewhat stilted prose style, which carries with it the earnestness of its thesis origins, her complex musical commentary that is not an easy read, and her tendency towards undesirable repetition. However, perseverance and much gritting of teeth will eventually reveal that, by examining the relationship between the concepts of lyricism, development, closure and teleology, and challenging formerly accepted opinion, Hyland has successfully brought the significance of Schubert's earliest quartets into analytical and musicological awareness, extended their reception in new theoretical directions and provided a solid foundation for future investigation in the field.
ROBIN STOWELL