A master violinist scintillates in a bold and brilliant programme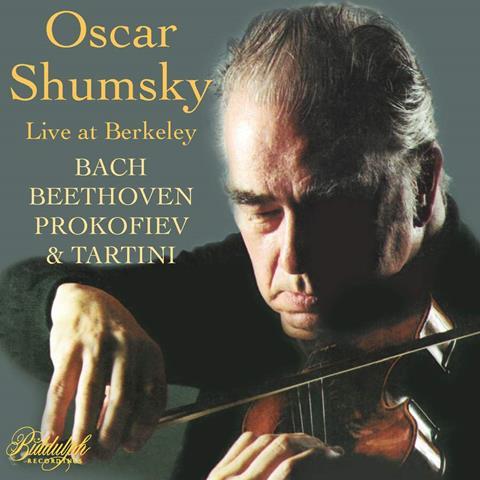 The Strad Issue: September 2023
Description: A master violinist scintillates in a bold and brilliant programme
Musicians: Oscar Shumsky (violin) Robin Sutherland (piano)
Works: Bach: Violin Sonata in E minor BWV1023 (arr. Siloti). Beethoven: Violin Sonata no.9 in A major op.47 'Kreutzer'; Romance no.2 in F major op.50. Mozart: Serenade no.7 in D major 'Haffner' – Rondo (arr. Kreisler). Prokofiev: Solo Violin Sonata op.115. Tartini: Violin Sonata in G minor 'Devil's Trill' (arr. Kreisler)
Catalogue number: BIDDULPH 85030-2
For aficionados, one look at the repertoire and the violinist's name will be enough: this programme is most of a recital Oscar Shumsky gave at the Berkeley campus on 25 January 1980, just before his re-emergence onto the concert scene.
He announces himself with a majestic account of the fanfare-like Prelude to Bach's E minor Sonata for violin and continuo; the Adagio is beautifully 'spoken' as if by a great actor; and the Allemande and Gigue display lovely rhythm.
The 'Kreutzer' is a sterner test for Robin Sutherland (1951–2020), but he responds like the warhorse he is, while Shumsky gives a splendid rendition with innumerable masterly touches: even if it's not the life-or-death experience you get from Huberman and Friedman, Busch and Serkin or Kogan and Gilels, it fully deserves the storm of applause.
Spurned by Oistrakh but taken up by Ricci, Prokofiev's Solo Sonata is delightful. Trenchant rhythm from Shumsky in the first movement gives way, in lighter passages, to a debonair cane-twirling stroll; the theme-and-variations second movement is superbly done; and the third, the most Prokofievian of all, dances gleefully.
I'm glad Shumsky plays Kreisler's edition of the 'Devil's Trill', better than the original. His performance is by turns beautiful, solidly rhythmical, declamatory and technically impeccable – the final cadenza is terrific.
Beethoven's Romance with piano is 'naked but nice', and for the Mozart-Kreisler add 'neat' – again the cadenzas are marvellous. Shumsky plays a 1905 Enrico Rocca and the booklet essay is a reminiscence by his violist son Eric.
TULLY POTTER