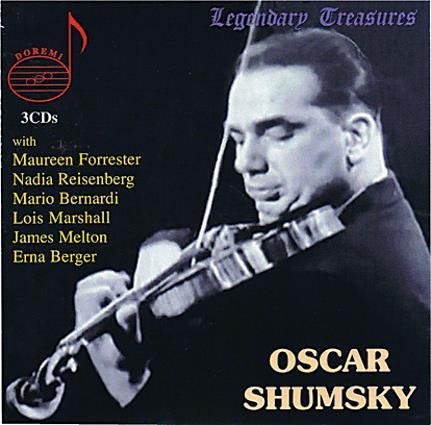 The Strad Issue: June 2015
Description: Historic recordings from a great American violinist
Musicians: Oscar Shumsky (violin) Nadia Reisenberg, Carroll Hollister, Mario Bernardi, Leo Barkin, George Schick, Earl Wild, Frank Maus (piano) Lois Marshall, Erna Berger (sopranos) Maureen Forrester (contralto) James Melton (tenor) Bach Aria Group, CBC Orchestra, Al Goodman Orchestra, NBC SO/Milton Katims
Composer: Bach, Beethoven, Buxtehude, Hindemith, Kreisler, Mozart, Rachmaninoff, Saint-Saëns, Schubert, Schumann, Strauss, Tartini, Telemann and Wieniawski
A legend among American string players, Oscar Shumsky (1917–2000) did just about everything a violinist can do, and this enjoyable grab-bag – 78rpm or LP records plus off-air material, dating from 1940–82 – reflects some of his wide repertoire and manifold activities. As virtually all the performances render criticism irrelevant, let me start with the few disappointments. The obbligatos to Bach cantata arias sung by the great Canadian singers Maureen Forrester and Lois Marshall are too fruity and full-bodied, not representative of Shumsky's best Bach style (in a Buxtehude cantata with Forrester he plays viola, which comes off better). Schumann's 'Träumerei' is a horrid lush arrangement and a few things have piano where orchestra would have been better; Erna Berger also sings an aria from Mozart's Il re pastore in German.
Beethoven's most dramatic sonata, the C minor (op.30 no.2), is superbly played with Nadia Reisenberg, both artists observing a wide range of dynamics, and is followed by Shumsky performing a Telemann solo Fantasia on the same broadcast; we briefly hear the musicians talking. Hindemith's rarely heard D major Sonata with Mario Bernardi has the same sterling virtues, as does Strauss's Sonata with Frank Maus. Four Rachmaninoff songs once recorded acoustically by John McCormack and Fritz Kreisler are recreated by the splendid Met tenor James Melton with Shumsky and Carroll Hollister; and there are more tributes to Kreisler, with whom Shumsky had a close affinity: Tartini's 'Devil's Trill', Rachmaninoff's 'Daisies', the solo Recitative e Scherzo-Caprice and the Viennese Rhapsodic Fantasietta.
Other highlights are Saint-Saëns's Introduction et rondo capriccioso, both of Wieniawski's polonaises brillantes, dispatched with true brilliance, Schubert's Rondo brillante and, last but far from least, Bach's D minor solo Partita, played fairly briskly but always with poise – Shumsky's rhythm is a pleasure throughout these discs. The biographical note commits several howlers.
TULLY POTTER