Historic Mozart and Shumsky herald the return of the Biddulph label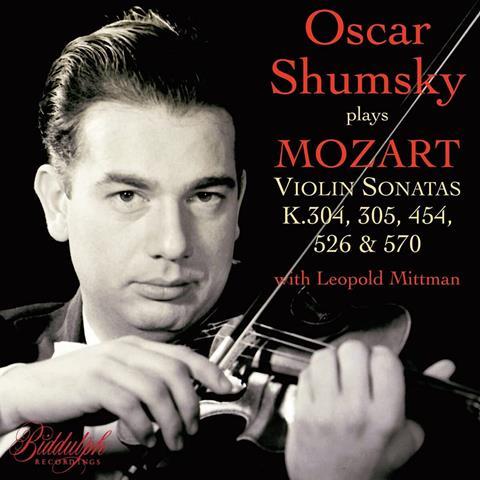 The Strad Issue: October 2021
Description: Historic Mozart and Shumsky herald the return of the Biddulph label
Musicians: Oscar Shumsky (violin) Leopold Mittman (piano)
Works: Mozart: Violin sonatas: in E minor K304, in A major K305, in B flat major K454, in A major K526, in B flat major K570
Catalogue number: BIDDULPH 85003-2
Philadelphia violinist Oscar Shumsky (1917–2000) and New York pianist Leopold Mittman (1904-76), who moonlighted in light music, recorded these sonatas on two 1951 LPs for a small company, Allegro. The inclusion of the Piano Sonata K570, published five years after Mozart's death and, in Charles Suttoni's words, 'tricked out with a completely spurious and inane violin part', implies that more LPs were planned; but in 1952 Allegro was taken over.
The duo seems keen to avoid the Dresden-china approach but overdoes the iconoclasm in K304, where the Allegro's dramatic contrasting phrases are almost military. In the minuet–rondo, Shumsky keeps the main theme on a short string but the affecting second strain is nicely done.
Thereafter all is well. They enjoy the Allegro di molto of K305 and the theme and variations are graceful. The Allegro of K454 is swift and Shumsky does not always get out of Mittman's way in the Andante; but this is a fine performance – as is that of K526, with delightful ensemble playing. Mittman anchors K570 well and has most of the interest in the Allegretto.
The recordings are 'historical', with boxy sound, patches of distortion and LP surface noise, but the artistry is on a high level.
TULLY POTTER