Mozart is the star in historic recordings by two fine German quartets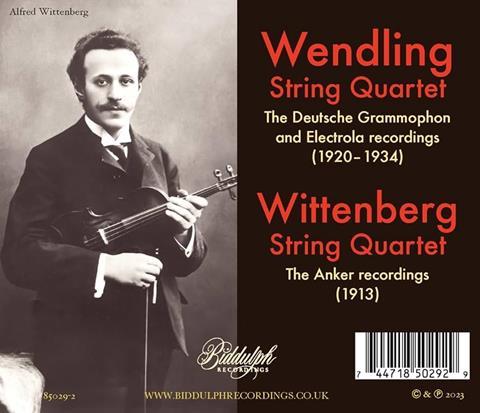 The Strad Issue: November 2023
Description: Mozart is the star in historic recordings by two fine German quartets
Musicians: Philipp Dreisbach (clarinet) Walter Reichardt (cello) Wendling Quartet, Wittenberg Quartet
Works: Mozart: String Quartet K387; Clarinet Quintet K581. Reger: Clarinet Quintet op.146 – Vivace; quartet movements by Beethoven, Dittersdorf, Haydn, Hoffstetter, Mendelssohn, Mozart, Reger and Schubert
Catalogue number: BIDDULPH 85029-2 (2 CDs)
Here are all the recordings made by two of the ensembles who continued Joseph Joachim's string quartet tradition. The lion's share of the set is played by the group which ran from 1911 to 1947 with Carl Wendling as leader and Alfred Saal as cellist (the players of the inner parts changed several times).
The gems are two complete Mozart works recorded in 1929, both with first-movement exposition repeats. The G major Quartet K387 features contained Classical playing, with the Wendling catching the wistfulness of the Minuet and its Andante cantabile unfolds very naturally, though the finale is a little short on humour.
For Mozart's Clarinet Quintet the Wendling is joined by Philipp Dreisbach in a reading that is the purest bel canto, the transitional string style – gut strings, portamento, sparing vibrato – going well with the liquid clarinet. Hearing Dreisbach may be the closest we can come to the sound of the legendary Richard Mühlfeld – both men started as string players and employed vibrato (a fact unknown to those modern clarinettists who play Brahms 'straight').
Of the single movements, the most important is the Scherzo from Reger's Clarinet Quintet – Wendling, Saal and Dreisbach played in the premiere and here give a delightful reading. The Scherzo of Reger's great E flat major Quartet op.109 is also delectable, with genuine wit. The reading of the Adagio from Schubert's C major Quintet with the excellent Walter Reichardt is also telling, if not quite on the level of Hollywood/Reher or Taneyev/Rostropovich. The Scherzo of Mozart's G major Quartet ends with the Viennese Trio – for the da capo, you would play the first part of the side again: those were the days!
The four 1913 sides by the Wittenberg Quartet, splendidly played, include three overlaps with the Wendling, making for interesting comparisons. The fourth is Mendelssohn's Canzonetta, very stylishly done. Second violinist Behr was Artur Schnabel's brother-in-law.
With 15 acoustic sides among the 28 tracks, this is not a hi-fi product; but anyone with an interest in fine musicians of the past will have a field day. Alas, the essay I provided has been shortened and a number of errors have appeared.
Tully Potter