Promising playing but still a way to go on this tribute to a renowned violinist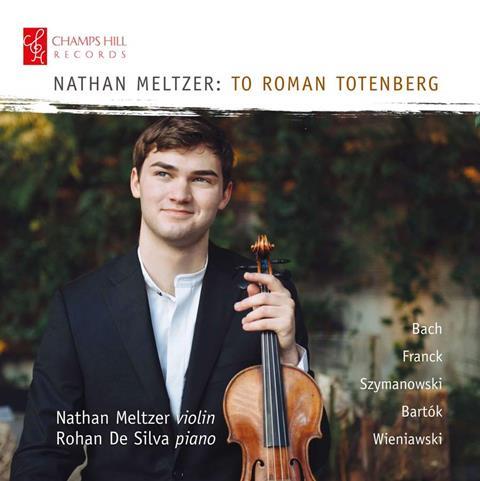 The Strad Issue: December 2020
Description: Promising playing but still a way to go on this tribute to a renowned violinist
Musicians: Nathan Meltzer (violin) Rohan de Silva (piano)
Works: Bach: Sonata in E major BWV1016. Bartók: Rhapsody no.1. Franck: Sonata in A major. Szymanowski: La Fontaine d'Arethuse op.30 no.1. Wieniawski: Polonaise de Concert in D major op.4
Catalogue number: CHAMPS HILL RECORDS CHRCD161
Well recorded in the Music Room at Champs Hill, this programme shows off the 1734 'Ames, Totenberg' Stradivari, which 19-year-old Nathan Meltzer has been using since 2018; and his debut disc is dedicated to Roman Totenberg's memory.
Meltzer makes a good sound and is well partnered by De Silva, but the Bach throws up tiny irritations that crop up elsewhere: hints of late-onset vibrato, squeezed-out tone, vibrato hung out to dry at the ends of phrases. The fast movements should dance more (cf. Busch–Serkin, Menuhin–Kentner, Barinova–Royzman).
Most fully realised is the Franck, beautifully played and well comprehended, if a trifle studio-bound. The Szymanowski is also excellent, not quite in the Danczowska class but with the authentic ethereal effects.
The Bartók starts with a fine swagger but in both movements the tension is allowed to dissipate. There is good rhythm at the start of the 'Friss', although I would like to hear the whole work more subtly inflected (cf. its dedicatee Zoltán Székely).
Similarly, Wieniawski's Polonaise – a piece Meltzer can be seen performing on YouTube aged twelve – is nicely played, with forthright rhythm at the start and in the second episode, yet the rhythms should surely be teased out a little more.
TULLY POTTER